Comments Off

on LIBERTY'S FIRE
February 20, 2015 by Lydia Syson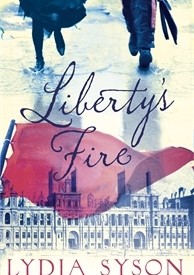 Liberty's Fire has been nominated for the 2016 Carnegie Award and named a Telegraph 'best YA book of 2015'.
Paris, 1871.  Nearly 40 years after the events of Les Miserables, a new revolution is brewing. . .
Though the Franco-Prussian war is over, life through the siege has been tough, and peace proves bitter.  On the edge of despair, Zéphyrine finds inspiration in the hope offered by the city's radical new leadership, the Paris Commune. And she has unexpectedly fallen in love. Anatole, a dashing young violinist at the Théâtre Lyrique, opens Zéphyrine's eyes to a glamorous new world, while he in turn is swept away by her passionate beliefs.
Not all their friends are equally convinced. With a home-grown enemy now at the gate and the barricades rising, can love and friendship both survive?
If you can't get to a bookshop BUY Liberty's Fire in paperback from Hive (by post or via your favourite independent bookshop – delivery to EU countries) or at Wordery or as an ebook from Waterstones (ePub format) or Amazon for Kindle. 
Find out more here about the history behind Liberty's Fire, and read an extract.
'Lydia Syson does another fine job of bringing to life sometimes neglected periods of the past. . .the detail is great. . .' Martin Chilton, Telegraph Culture Editor
'. . .an inspired setting for this tense, dramatic novel. . . The writing is powerful, the events terrifying.' The Bookbag
'this exciting and unflinching novel is a hugely satisfying read – and a fascinating one too.' Absolutely Dulwich magazine
'This book is a historical gem…tense, moving and written deeply from the heart…Be inspired and read it.' Mr Ripley's Enchanted Books
'a thrilling, daring love story…Syson's passionate account of the lives of four youths during those dramatic seventy-two days in 1871 is a riveting yarn. With bullets flying and hearts throbbing, she lucidly portrays the historical context and complications, the high hopes and thwarted aims of the first democratically elected socialist government, and its rapid unravelling.' Jenny McPhee at Bookslut.
'shocking and fascinating and just hugely emotional…a roller coaster' Fluttering Butterflies
'Liberty's Fire is perfect for fans of Lydia Syson's previous novels: she has written another beautifully evocative, fascinating historical epic which had me enthralled from the opening pages.' We Love This Book
'a thrilling and passionate plot perfect for the teenager in your life.' Counterfire
'a truly extraordinary book. Syson brings this pivotal moment in French history into glorious life…' The Review Diaries
'gripping…I got swept away with the characters and the situations they were all in: unrequited life, family, dreaming of a better life..' The Pewter Wolf
'Lydia…writes my sort of historical fiction…well-researched with a brilliant attention to detail..all in all a fascinating read.' The Overflowing Library
'The characters were so strong and different. I don't think there was a character I didn't like! The historical backdrop was really vividly written…a beautiful tale of French rebellion.' The Whispering of the Pages
Category | Tags:
---
Comments Off

on LIBERTY'S FIRE
Sorry, comments are closed.