Comments Off

on MR PEACOCK'S POSSESSIONS
February 14, 2018 by Lydia Syson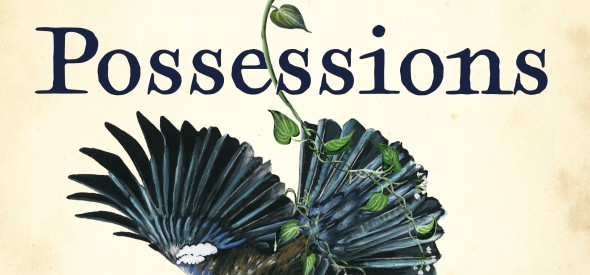 'an intelligent, beautifully written book about a dysfunctional family in a sinister paradise' (ANTONIA SENIOR in THE TIMES – BOOK OF THE MONTH & BOOK OF THE YEAR)
'Powerful, intense and beautiful, this novel will stay with me for a long time.' (HISTORICAL NOVEL REVIEW – editor's pick for May)
'Beautifully written, immaculately researched and powerfully imagined. . .' LANCASTER EVENING POST
'Mr Peacock's Possessions. . . follows the Peacock family as they enter voluntary exile on a remote Pacific island. Teenage Lizzie watches as her obsessive father attempts to become ruler of his tiny realm, but tragedy beckons when her brother Albert goes missing. Together with a missionary-educated Polynesian workman, she unearths terrible truths about the island's history and her own family. Syson's novel, a modern take on the literary genre known (after Robinson Crusoe) as the robinsonade, is a haunting exploration of Lizzie's disillusion with her father's dreams and their damaging consequences.' (NICK RENNISON in THE SUNDAY TIMES, MAY; BOOK OF THE YEAR, DECEMBER)
'In this electrifying story of a man's obsession, the setting is a remote Pacific island in 1879, where the Peacock family are joined by a pair of Polynesian brothers. Appalled by the decrepitude of the Peacocks, missionary-trained Kalala strikes up a friendship with the daughter Lizzie, to discover that the situation is far worse than he imagined. Lushly written, with immaculate historical details, it worked for me on many levels.' (WOMEN AND HOME)
'Historical-fiction fans, meet your new favourite author. Lydia Syson's Mr Peacock's Possessions follows a family of 19th-century settlers from New Zealand as they try to create their own paradise on a remote Oceanic isle.  All seems to be going according to plan; until, that is, they realise their eldest son is missing, and that the island is far from what it seems. Intense and beautiful, it's one for fans of The Poisonwood Bible.' (STELLA MAGAZINE/THE TELEGRAPH)

'Syson's novel is richly evocative of a Pacific world in flux, as cultures clash and individuals battle to find their place amid the ensuing confusion. It's also a very moving story of fathers and children, of faith and disillusion, and of the dangerous consequences of trying to take possession of people as well as land.' (BBC HISTORY MAGAZINE)
'. . .paradise quickly turns sour in this remarkable story from Lydia Syson. . .A sinister, engrossing story.( THE TIMES – what to read on holiday)
'. . . a novel both expansive and intimate . . .an era of exploitation and barbarism, when the world map is in flux . . . A beautiful and perceptive adventure.' (THE IRISH TIMES)
'Mr Peacock's Possessions tells an all-too-human and modern tale about the dangers of untrammelled authority, heedless romanticism, phobic gender and racial archetypes and the shortcomings of power. Astutely, the author anchors this rich mix of themes to the lives of one family and their employees on one small Pacific island. This particularising of the general pays off big time, making Mr Peacock's Possessions rich and comprehensive indeed.' (THE DOMINION POST)
'Richly descriptive. . . a history lesson, a geography lesson, a survival story, and, as it reaches its climax, disturbingly heart-pounding.' (THE AUSTRALIAN WOMEN'S WEEKLY)
'Atmospheric, lyrical and tense…beautiful, thoughtful writing' (NZ LISTENER)
'Mr Peacock's Possessions by Lydia Syson is a wonderfully compelling book. Highly recommended.'  (BOOKSTOKER)

Oceania, 1879
'I wake again and again and wish we had never come to this place. It seems to me that we have broken into the middle of a story and now we are part of it.'  
Lizzie Peacock and her siblings have lived a hardscrabble life since their mother and father brought them to settle a remote and uninhabited island in the Pacific. For two years the family has survived on next to nothing, yet Lizzie's father Mr Peacock has not given up the particular swagger that comes from possessing a wife, children, a patch of land and hope for the future. And now, perhaps, a gang of islanders who have come to work for him.
Kalala is one of these men. A longing to see the world has brought him eight hundred miles from his isolated Polynesian home. Missionary-educated, he is shocked to find these ragged children who cannot read.
Albert, Mr Peacock's eldest son, suffers bitterly from his father's obsessions. All he wants is to get away from him and from the island. When a ship comes, he thinks he can grab his chance.
As Lizzie and Kalala unpick the mystery of Albert's disappearance, the terrible secrets that the island itself is harbouring are slowly revealed: all the certainties underpinning the life that Mr Peacock has constructed begin to unravel, with unimaginable consequences.
This is a novel about possession, both literal and metaphorical. Through an encounter between two migrating groups – a family of roving settlers originally from England, and a pair of Polynesian brothers, members of a work party whose Pacific island home was converted to Christianity a generation or so earlier – Mr Peacock's Possessions explores timeless themes of family relationships, faith and belonging. It throws new light on a particularly fascinating historical moment, little explored in contemporary British fiction and too often obscured by stereotypes and fantasy.  In the late nineteenth century, the Pacific world was in flux: whalers, slavers, missionaries, islanders, traders, settlers and beachcombers were on the move and in conflict, and islands and people were both seemingly up for grabs.
Read more about the true story in my extended family history which inspired Mr Peacock's Possessions at The History Girls, where Adèle Geras reviews the novel: "the greatest achievement of this novel [is that] it stays with you. I've been haunted by it since I finished reading it. I hope very much that it gets the attention and praise it deserves."
Find out more about sources and background reading here. Another interview about my approach to writing the book can be found here.
I talked to Mariella Frostrop about Mr Peacock's Possessions for an 'islands in fiction' special edition of Open Book – available here.
Reviews from other bloggers:
At Writers Review Linda Newbery described the book as a "dazzling tale of colonisation and corruption, enterprise and abuse" and concluded "There are nods to Lord of the Flies in the island setting and the struggle for orderliness that fails to prevent the eruption of violence – Lord of the Flies as if written by Barbara Kingsolver, perhaps, with a dash of The Wicker Man. But I think readers will find various other parallels and echoes in this vividly realised, compelling novel. As I write this, the longlist for the Women's Prize has just been released. I'll be disappointed if Lydia Syson's name doesn't appear there next year."
What Cathy Read Next said: "Mr Peacock's Possessions is like the strange but wonderful lovechild of Swiss Family Robinson, Lord of the Flies and The Tempest. It will appeal to readers who like their historical fiction full of atmosphere and compelling characters…and an undertone of menace.  Highly recommended.  I can see this novel making some literary prize shortlists."
Theresa Smith Writes said: "Lydia Syson writes with such atmosphere, her setting is almost tangible in its realisation. I loved this novel. . . it was gripping and absorbing and thrilled me all the way through. Historical fiction rarely comes better than this."
The Reading Desk said: "an enthralling, cleverly written and fearless take on the desert island story. . . I highly recommend this book.*****" 
Globe Trove said "Mr Peacock's Possessions is a gripping novel… I'm in love with Lydia Syson's writing."
Book Oxygen described the book as "a powerful examination of love and loyalty that lingers long after the last page has been turned."
Novel Thief  said, "I absolutely love this book. It was an amazing read."
A Book and Tea said it was "a wonderfully written piece."
Ronnie Turner posted an extract, and commented "the extract has definitely whet my appetite for more!"
Jaffa Reads Too said "Lydia Syson's skill as a storyteller brings Monday Island. . .and its eccentric inhabitants so vividly to life." 
Rony at Breakaway Reviewers gave the novel 5 stars and noted that "This certainly is one of the most powerful, brilliantly written books. . .a wonderful book club read. The storyline is so powerful and so thought-provoking. . . Lydia Syson managed to hook from the very first line."
The Reading Nook said: 'I couldn't put it down. . . I'd definitely recommend it.'
Category | Tags:
---
Comments Off

on MR PEACOCK'S POSSESSIONS
Sorry, comments are closed.