0
December 14, 2012 by Lydia Syson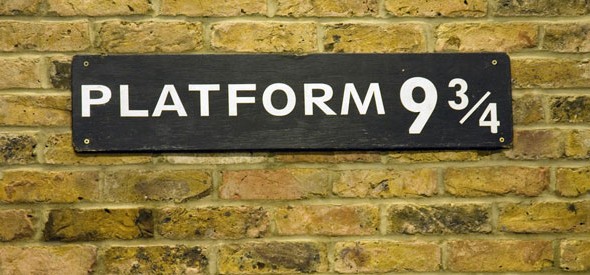 Tucked into a corner of King's Cross Station, just beside the sign for Platform 9-and-3/4, there's a newish bookshop called Watermark which is well worth seeking out.  Thanks to Laura, its fantastically enthusiastic children's bookseller, that's where just over half my writing group kicked off this year's Christmas celebrations last night.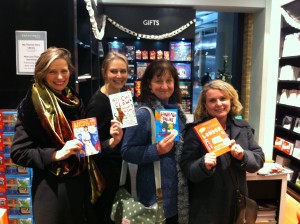 Jennifer Gray, Amanda Swift, Becky Jones and I signed four great piles of books – check out Atticus Claw, Guinea Pigs On Line (Book Two hits the shelves in a matter of weeks) and the Bumper Book of London – before heading off along London's only boulevard to meet the others, including 'Brit-Grit' author Keren David, whose fast-moving Another Life has just been an Independent on Sunday Book of the Year 2012 and brings to a conclusion the edge-of-the-seat adventures of Ty that began in When I Was Joe.
Sharing ideas, ups and downs and plenty of coffee with other children's writers in our regular meetings has made a huge difference to my writing life – A World Between Us might have struggled to see the light of day without the support of my 'group'. Committed booksellers make a world of difference at the other end of the writing process. This week I've also been signing copies at Review in Peckham and Village Books in Dulwich. Thank you!
I've touched a little here on my family history over the past few months, but if you want to know more and find out how I carried out the research for A World Between Us, there are features this month in three magazines: New Books, Writers' Forum and Jewish Socialist.  Read about some of the rebels, romantics and wordsmiths in my family tree here.  And if you're interested in finding out more about this quarterly magazine – 'a forum for radical ideas and opinions on issues directly affecting the Jewish community in Britain and elsewhere and on questions vital to minorities and socialists everywhere' – just email me with your name and address and I'll pass it on.  You'll soon receive a free 'taster' copy of the latest issue and details of how to subscribe at just £10 a year – so that makes five copies for the price of four.
Category News | Tags: Adventure Walks, Atticus Claw, Guinea Pigs Online, Jewish Socialist, Keren David, New Books, Platform 9 3/4, review, Village Books, Watermark, Wrtiers' Forum
---