0
December 7, 2012 by Lydia Syson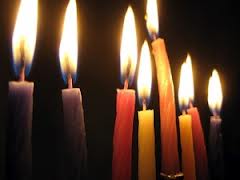 This post was written for Hot Key Books '9 Days of Christmas' 
All my childhood memories of Christmas merge into one indistinct blur: it was always the seventies.  It was always grey.  It never, ever snowed.  And later I remember a lot of stressful dashing about between parents followed by the relief of finally arriving at the house of my London grandparents.
Here a strange mixture of traditions prevailed.  The deliciously dangerous Christmas tree was festooned with clip-on silver candle-holders, a coloured Chanukah candle alight in each one at a rakish angle.  There was always a loaf of challah in the blue enamel breadbin.  And I have a feeling that we even had chopped liver on matzo before the turkey appeared.  The occasion was resolutely secular.
Of course it always snowed in books.  Maybe that was what made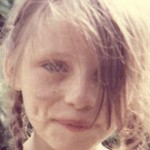 coming back to England from Africa so disappointing.  I'd spent my earliest years celebrating Christmas in mid-summer, having endless discussions with my friends in hot, landlocked Botswana about the precise nature of snow and sea. (I had a little experience of sea, but my snow was entirely storybook.)
There was nothing predictable about the fictional Christmases I loved.  Quite the opposite in fact.  Christmas was usually under threat.  I remember lying on the floor of the coolest room in our house in Botswana in tears as I neared the end of very first 'grown-up' book I read on my own, Rumer Godden's The Story of Holly and Ivy. It was a 'story about

wishing':  a lost orphan wishing for an imaginary grandmother, a doll wishing for a special girl and a couple wishing for a child.  Ivy stands in the snow looking at the beautiful doll in the shop window still unbought on Christmas morning – 'Her name, of course, was Holly'.  I absolutely couldn't believe everything could possibly be resolved in time.  But of course it was.
The Hundred and One Dalmations has a perfect Christmassy climax.  Again, despair comes agonisingly close.  When the Dearlys open the door onto the snowy night and see two black dogs, instead of their beloved Pongo and Missis, they actually turn the animals away.  But this resourceful canine couple isn't just good at wishing.  Pongo and Missis storm the house with all the missing puppies.  Their sooty coats are rubbed off on the white carpet in front of the Christmas tree in an ecstacy of rolling, and Christmas Day turns out once more to be 'absolutely wonderful'.
Laura Ingalls Wilder provided me with some of my most memorable Christmases.  I could probably list every present Laura and Mary ever received.  But she keeps the fact of Christmas up her story-telling sleeve for the most heartstopping one of all: On the Banks of Plum Creek.  Pa is lost in a blizzard for three days and nights.  He only survives by eating the oyster crackers and every single sweet he's brought back from town for Christmas.  Only when he finally returns do they work out what day it is:
"Everything was so good…Tomorrow would be Christmas, with
oyster stew for dinner.  There would be no presents and no candy, but Laura could not think of anything she wanted and she was so glad that the Christmas candy had helped to bring Pa safe home again."
In wartime, families can't always be together at Christmas.  There's certainly no counting on a happy ending.  Maybe that's why Little Women – set during the American Civil War – opens at Christmas instead.  Two Christmases come and go in A World Between Us.  When Felix and Nat are reunited at last in a bar in beseiged Madrid, Felix thinks about the Christmas at home she's missed – but with relief rather than regret at having escaped it.  I can't tell you here whether or not she and Nat will one day be lighting Chanukah candles on a Christmas tree too.  You'll just have to read the book.
Happy reading, and happy festivities, whatever form they take.
(More about my childhood reading in The Guardian  and memories of Botswana in The Independent)
Category News | Tags: 9 days of Christmas, A Hundred and One Dalmations, Chanukah, Christmas, Dodie Smith, Laura Ingalls Wilder, memories, On the Banks of Plum Creek, Rumer Godden, snow, Special offer, The Story of Holly and Ivy, traditions
---