2
December 22, 2012 by Lydia Syson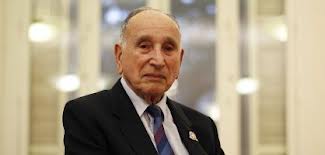 When Ellathebookworm from the Guardian Teen Book Club asked me this week what I would have found hardest if I'd been a soldier in the Spanish Civil War, I immediately thought of David Lomon, and what he had endured after being taken prisoner by Mussolini's forces in Spain in the spring of 1938.  Richard Baxell interviewed him for his new book, Unlikely Warriors – read more here. Very sadly, David died yesterday.
Earlier this year, David was kind enough to share his experiences in the International Brigades for the multi-touch edition of A World Between Us, and I'm extremely grateful to him and his family. He had only become involved with the International Brigade Memorial Trust a few years ago, and I was unaware of his story when I wrote my novel.  Like my hero Nat, David was a young Jewish East Ender whose experiences resisting fascism at the Battle of Cable Street in London made him determined to do more than demonstrate against Mosley and his Blackshirts.  David explained: "My feelings had grown so much, my anti-fascist feelings…that I felt I had to do even more…I had to go and fight in Spain." (p. 9, AWBU iBook) He was eighteen when he left England.
You can hear David talking about his homecoming on p. 365 of the iBook, and he sings a version of 'There's a valley in Spain called Jarama' on p.193.
As he said in the speech he made at the inauguration of the International Brigades Memorial at University City in Madrid in 2011, "we must always remember those who gave their lives, and also the suffering of the Spanish people: the ideals of the international volunteers will never be forgotten."
Category News | Tags: David Lomon, Guardian Teen Book Club, International Brigades Memorial Trust, last British International Brigader
---