6
January 24, 2013 by Lydia Syson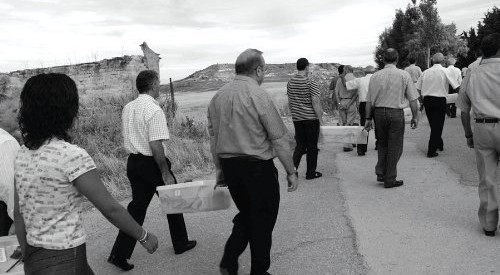 Numbers on labels, pinned to the soil.  A handful of molars in a plastic bag. The riverine meanders of sutures running across a cranium, joining frontal to parietal bones, temporal to occipital.  They are transected by a fracture, leading from a bullet hole.  This is a close-up photograph.  It's a shot so intimate that the skull bones have become a landscape.  You think at first you are looking at cracked earth.  You remember the ground from which this head has recently been lifted, so tenderly, the soil that has been brushed away.
The book containing these important, difficult and often beautiful photographs is called Desvelados in Spanish.  It had to be published independently because its original publisher wanted to censor one of the essays it contains, convinced that its contents were too inflammatory.  The English title, Kept Awake, can only convey part of what desvelados means.  It's not just about fending off sleep, but shedding a veil.  It refers to the living and the dead.
The Spanish photographer Clemente Bernad,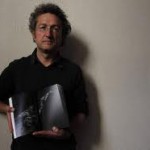 who was at the London School of Economics this week talking about the project Where Memory Dwells, has thought deeply about what it means to disinter the bodies of those executed by the Nationalists during the Spanish Civil War, and how to represent this.  The Francoists' uncontrolled and systematic repression led to the violent deaths of some 150,000 people.  Bernad has been documenting the controversial process of their exhumation for the last twelve years, during which time 250 unmarked graves have been opened, five thousand bodies recovered.  These are the remains of people who were left in ditches or thrown into common graves right across Spain after the military coup of July 1936.  Until the turn of this century, they have been a kind of 'open secret', an invisible, subterranean, private counterpart to the monolithic monuments, tombs and public plazas prominent throughout the country to honour the victors' dead.
As Bernad pointed out, it's important to remember that we are talking here not about soldiers who died on battlefields, or the men, women and children caught by shells during a military attack.  Their lives and deaths are already well known through images produced by pioneering photojournalists like Agustí Centelles, the Mayo brothers, Gerda Taro, "Chim" Seymour, Robert Capa and others, photographers who changed forever the way we look at war.  The people now being unearthed are those who died behind the lines, with nobody to witness how or why or where they were killed. Their families were silenced, and left in ignorance. They are the individuals whose collective history was told for the first time in Paul Preston's book, The Spanish Holocaust.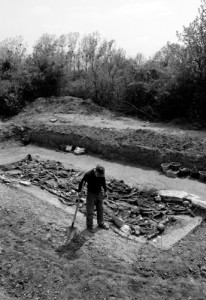 Bernad's work is not about the past but the present.  His concern is to break the Francoist silence into which Spain has been educated for generation after generation, and he believes that telling and repeating the story of what is happening here and now at these excavations is as important as excavating the graves themselves.  He has committed himself to documenting, very literally, exactly who is there, how a scientific team works, the taking of measurements, the processes involved in genetic profiling, as well as all the little things that are going on around the grave sites.  He photographs, unobtrusively, the reactions of relatives, and he photographs the bones themselves, where they lie, in laboratories, in plastic crates.  By also paying attention to spectacles, pencils, footprints, buckles, buttons and combs, he allows communication to take place between the living and their dead relatives through the inanimate objects found lying with these bones.
His film, Dying for Dreams (Morir de sueños) was crowdfunded, and like the book Desvelados, it is constructed as a montage, speaking in many voices, never seeking to represent an 'official' account of what it documents.  Juxtaposing poetry, memory, science and silence, it's allusive, suggestive and exceptionally moving.  The 'dreams' of the title are personal dreams, he suggests – what might happened to someone had they lived – and also the collective dream of the Second Republic of Spain, the dream of a more equal society that was killed with the government's defeat in the war.
"They were probably the best," a voice says.  "That's why they were taken.  But they've been erased."  Weaving in and out of the film are the stories of two representative individuals. An old man remembers his mother saying goodbye.  She was going to give testimony at a trial, she believed.  Instead they murdered her, bludgeoning her to death with a pick.  The man who killed her took her coat for his own mother, who paraded around town in it the next day.  Clemente Bernad told us that a week later, at the age of eighteen, the son without a mother joined the Falangists, the enemy, eventually becoming prominent in Franco's Blue Division (División Azul), the 'volunteers' who fought with the German army on the Eastern Front.  The man (who died three weeks ago) described his reactions when he received a phone call to say they wanted to dig his mother up.  He watched them gently brush the soil from her bones.  They showed him what was left of her body.  He raised his fist, in the Republican salute, four times, in memory of her.
Another young woman, Maria Alonso, was betrayed by her own priest.  'Everyone knew her. Her brother was a socialist.  She was a reader.  She spoke her mind.'  Her head was shaved.  She was probably raped.  Her family continued to attend mass after she disappeared.  Maria Alonso died in August 1936, a month after she had been to Madrid to buy a pair of gold earrings with a winning lottery ticket.  She had an ear infection when she was arrested, so she was only wearing one of them.  The archaeologists kept looking for the second when they found the first in her grave.  Then one of her descendants arrived from Paris, bringing the missing earring.  It had been made into a ring after she died, and travelled into exile to France.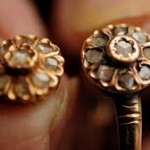 The film ends with children's voices.  What do they know about the civil war?  Very little, it seems.  In school it is narrated as Spain's tragedy.  Something that happened, like an external disaster, says Bernad.  Hence the oblivion which he is trying to combat.
A grandmother rocks a baby.  Somebody lights a cigarette.  Shadows fall across disturbed earth.
Thanks to Clemente Bernad and Dr Claire Moon from the Department of Sociology and the Centre for the Study of Human Rights, LSE who organised the event. 'Interpreting the Dead: Excavating Spain's Civil War Graves' took place on 22nd January 2013.  
Desvelados can now be read online here.
Category News | Tags: Clemente Bernad, Desvelados, Dying for Dreams, Kept Awake, Memory, Spanish Civil War
---