0
June 5, 2014 by Lydia Syson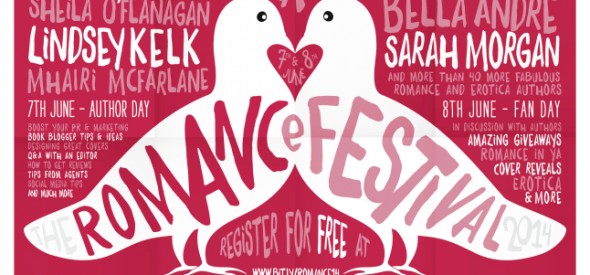 Think of historical romance, and I suspect you'll find yourself instantly bogged down in swathes of taffeta, tripping over corset-laces and tumbling into somebody's moonlit arms beneath ivy-bedecked castle walls.  But eyes can meet in strange places, and romance fiction, particularly the historical variety, has a lot in common with YA – it's surprisingly hard to define.  When Hot Key Books revealed its launch list way back in the summer of 2012, I was delighted to see A World Between Us described not just as historical romance, but political historical romance.

As far as I'm concerned, the common feature that unites all romantic fiction is passion.  It doesn't simply have to be passion for a person, important though that is.  In That Burning Summer, Henryk's childhood passions for aeroplanes and exploration are horribly twisted by the demands of war.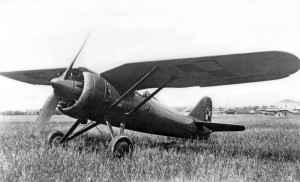 He takes to the skies in September 1939 not to experience the purity of flight he'd longed for as a boy, but to kill or be killed.  He journeys half-way round the world as an exile, who may never return to a country that will be utterly transformed by the end of the war. 'Poland, Poland, ah Poland,' the pilots sing in Beirut.
As for A World Between Us, set in London and Spain in the late 1930s, its characters fall in love with ideas and ideals as much as with each other. Political romance – which sounds as if it could simply be a love story set in the House of Commons or the White House – is arguably a peculiarly '30s genre.  Nearly fifty years after the first publication of John Sommerfield's 1936 novel of working-class London, May Day, the author noted in a new edition that when he was writing the book, he'd have probably described it as socialist realism.  'Now I'd call it early '30s Communist romanticism.  I'm not in any way apologising for the book's enthusiastic, simple-minded political idealism.  Because it was a genuine idealism.'  (Sommerfield was not only an International Brigade volunteer himself, but also a contributor to the Mass Observation Movement, the subject of last month's post.) Part of my research included listening to interviews and reading memoirs of my own grandfather, Jack Gaster, who, in retrospect, described his own political development in similar terms.  He said that he was a romantic socialist before he was a political socialist.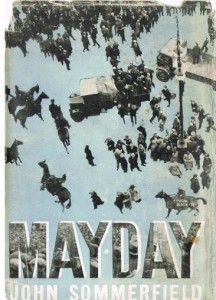 I was as keen to capture the romance of 1930s politics in A World Between Us as I was to evoke the strange, heightened, delicious sensations of first love. 'Imaginative, visionary, remote from experience' is one dictionary definition of romance cited by the Romantic Novelists Association.  Well, to change the world for the better, as the volunteers of the International Brigades were trying so hard to do – as indeed were the pacifists of the 1930s, 'offstage' in That Burning Summer – certainly demands imagination and vision, and can take you into realms that seem to defy everyday experience.  Felix is briefly lifted into that realm for the first time with the mass singing of the Internationale at the Battle of Cable Street.  She falls in love with hope for the future and Nat almost simultaneously.
So historical romance isn't necessarily all parties and ball gowns.  It can equally encompass the Party (see AWBU, p.133), and a soldier or nurse's or a pilot's uniform.  Significant historical events, accurately related, can provide a spur to romance or indeed thwart it.  As Sommerfield abbreviates Marx in his epigraph to May Days, 'Men make history, but not as they please.'  I'll be pursuing this theme further in my next novel, Liberty's Fire, set in 19th Century Paris and out next year.
This weekend the whole rich variety of romantic fiction will be celebrated online at the first ever digital Romance Festival, organised by Harper Collins with the help of a huge range of authors and publishers, including my own.

Sign up here for the full programme.  
If you're a writer, join Hot Key Books' Emily Thomas for an #Askaneditor session on Saturday between 2 and 3 pm. And on Sunday afternoon between 4 and 4.30 pm, a trio of very different Bonnier romance authors – me, 'clean teen' Cathy Hopkins and 'steamy' Liz Bankes – will be waiting for your questions and discussing our different approaches to romance on Twitter: #Romance14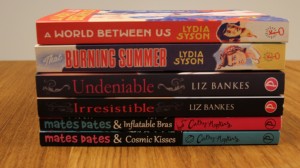 Get in the mood with a giveaway – win this lovely pile of our books with the best tweet about the most memorable kiss in YA fiction: #YAKiss. Don't forget to include the hashtag #Romance14.
Over at Catnip, Liz Bankes and Keris Stainton have been playing 'Make your own romance' – feel free to join in with your own variations in Comments.
Category News | Tags: #Romance14, Cathy Hopkins, Catnip, clean teen, Competition, digital romance, Emily Thomas, giveaway, historical romance, Keris Stainton, Liz Bankes, London Books, political romance, Romance Festival, steamy, UKYA
---