Comments Off
February 14, 2018 by Lydia Syson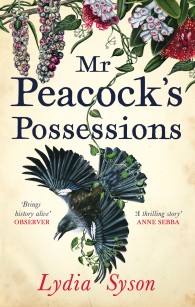 Oceania, 1879
'I wake again and again and wish we had never come to this place. It seems to me that we have broken into the middle of a story and now we are part of it.'  
Lizzie Peacock and her siblings have lived a hardscrabble life since their mother and father brought them to settle a remote and uninhabited island in the Pacific. For two years the family has survived on next to nothing, yet Lizzie's father Mr Peacock has not given up the particular swagger that comes from possessing a wife, children, a patch of land and hope for the future. And now, perhaps, a gang of islanders who have come to work for him.
Kalala is one of these men. A longing to see the world has brought him eight hundred miles from his isolated Polynesian home. Missionary-educated, he is shocked to find these ragged children who cannot read.
Albert, Mr Peacock's eldest son, suffers bitterly from his father's obsessions. All he wants is to get away from him and from the island. When a ship comes, he thinks he can grab his chance.
As Lizzie and Kalala unpick the mystery of Albert's disappearance, the terrible secrets that the island itself is harbouring are slowly revealed: all the certainties underpinning the life that Mr Peacock has constructed begin to unravel, with unimaginable consequences.
'A thrilling story of love and courage, brutality and hope all told with equal measures of deep humanity, imagination and élan. Lydia Syson has an amazing gift for bringing history alive through richness of language, dramatic pace and fabulous visual imagery.'  (ANNE SEBBA)
'Swiss Family Robinson meets Lord of the Flies in Lydia Syson's superb and engrossing book. This scintillating story evokes an island paradise which descends into a nightmarish hell as Mr Peacock's Possessions builds towards a shocking revelation and a thrilling climax.' (WENDY MOORE)
Mr Peacock's Possessions was inspired by a true story in my partner's family history: one of his New Zealand great-uncles was born on Raoul in the Kermadecs in 1898. When his family first arrived on the island twenty years earlier, they were its only inhabitants.  
This is a novel about possession, both literal and metaphorical. Through an encounter between two migrating groups – a family of roving settlers originally from England, and a pair of Polynesian brothers, members of a work party whose Pacific island home was converted to Christianity a generation or so earlier – Mr Peacock's Possessions explores timeless themes of family relationships, faith and belonging. It throws new light on a particularly fascinating historical moment, little explored in contemporary British fiction and too often obscured by stereotypes and fantasy.  In the late nineteenth century, the Pacific world was in flux: whalers, slavers, missionaries, islanders, traders, settlers and beachcombers were on the move and in conflict, and islands and people were both seemingly up for grabs.
Category | Tags:
---
Comments Off
Sorry, comments are closed.