0
October 18, 2013 by Lydia Syson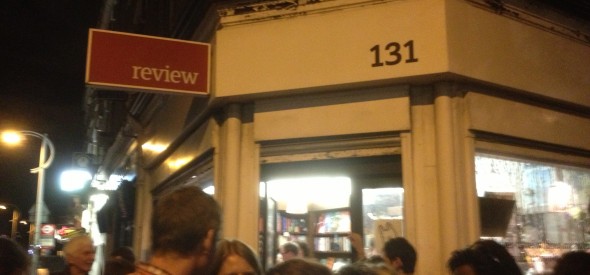 Huge thanks to everyone who came to Review bookshop to welcome That Burning Summer into the world on October 4th – was that really a fortnight ago? And was it really only a year since we'd been at Cable Street, singing and celebrating the birth of A World Between Us, Hot Key's fourth ever title?
As I explained before reading from the book, That Burning Summer is far from a sequel, but it's definitely a companion to A World Between Us. From epic battle scenes the length and breadth of Spain, we move, a few years later, to small town claustrophobia in Kent.  The storm we saw gathering in the first book, which our gallant volunteers for liberty had tried so hard but failed to prevent, has reached the shores of Britain: from Romney Marsh, the guns in France are all too audible and invasion is imminent.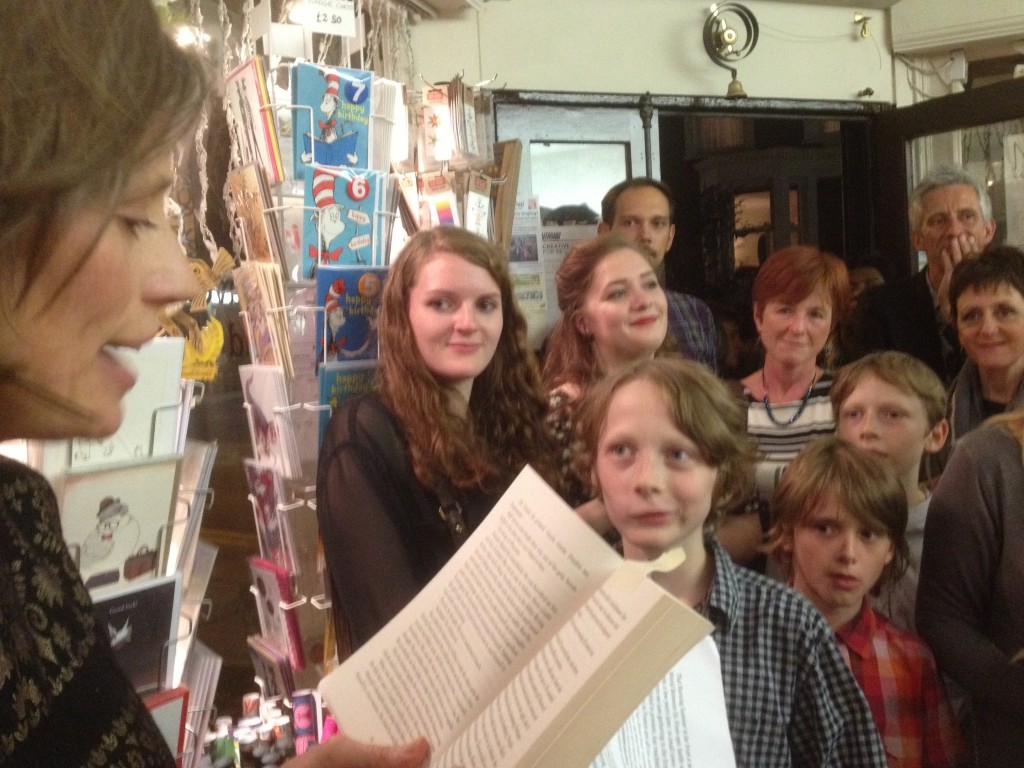 Now that the idea of 'our finest hour' dominates the story the nation tells itself about the summer of 1940, it's easy to forget just how close it came to being 'our darkest hour'.  This was a time when everything hung in the balance, there were rumours of spies all around, and you didn't know who you could trust.  It was a summer of fifth columnists and parachuting nuns, evacuated sheep and buried planes, and no stranger could be trusted.  And of course, far from being Britain's second language, Polish was utterly unfamiliar…
http://www.youtube.com/watch?v=Z5ETsOx0Lf0
The first reviews and book bloggers' responses have now started to appear, and very lovely they've been too. This week I've been talking about my muses with fellow-Bonnier author Katherine Roberts, delighted to be a Muse Monday guest on her Riding the Unicorn website.  In the next few weeks, I'll also be answering questions at My Book Corner and guestblogging at An Awfully Big Blog Adventure (The Ramblings of a few Scattered Authors – yes, I'm a proud member of the 'other' SAS).
But now, back to that launch party….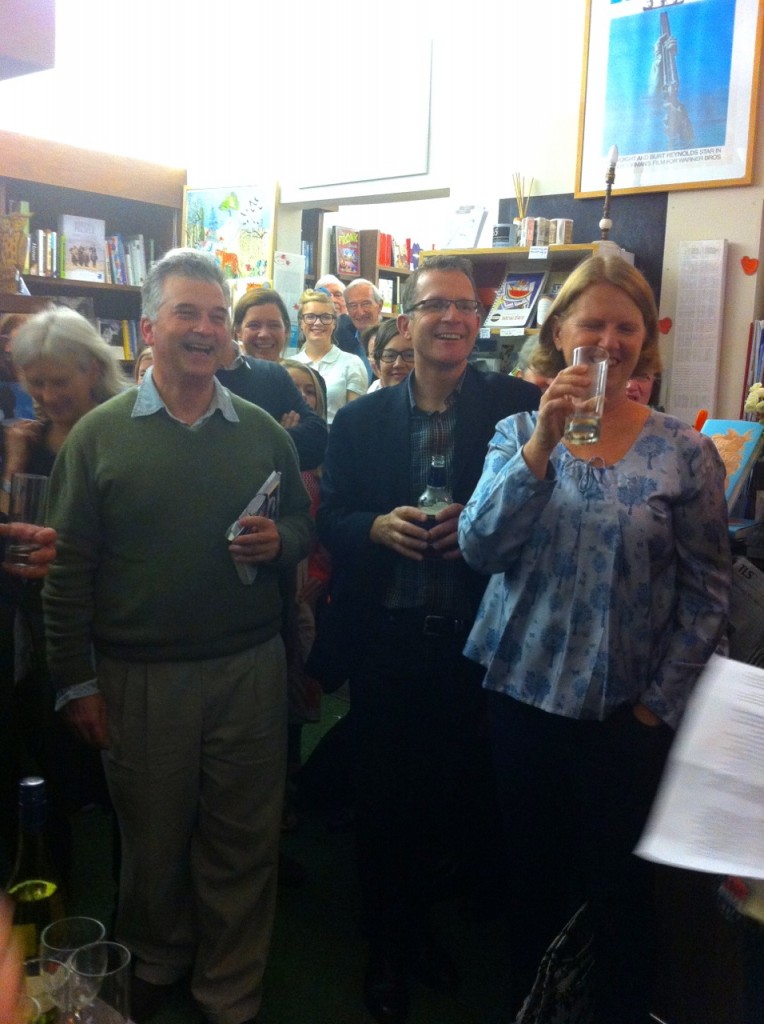 It was a particular pleasure to be able to introduce Jan Bielecki to some of his adoring fans, and thank him in person and in public – time and again I hear that it was his covers that have attracted readers' attention to both A World Between Us and That Burning Summer.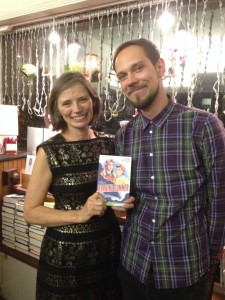 It's not often you get the chance to have a  YA novel signed by its illustrator – and in such style too!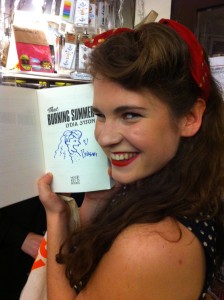 Thank you so much to Olivia Mead (right), Cait Davies and Sanne Vliegenthart from Hot Key, as well as Phoebe Finn, Iris Mathieson and Lila Bernstein who all looked wonderful in their vintage costumes and hairdos…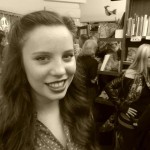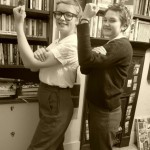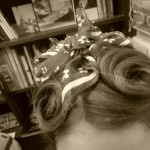 …and were also immensely helpful in making sure that everyone had all the nourishment a swinging Battle of Britain themed party requires…in this case, Polish food….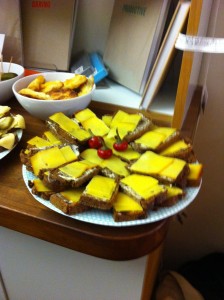 …and Spitfire ale, from the heart of Kent.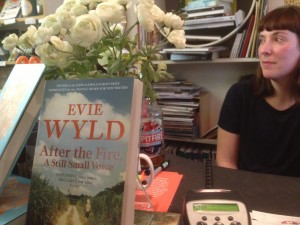 And yes…that was indeed Evie Wyld you spotted behind the till, anemones and beer bottle.  This year she was named as one of Granta's Best of Young British Novelists…hurry back to review for signed copies of her John Llewellyn Rhys Prize winning first novel, After the Fire, A Still Small Voice and All the Birds, Singing, which has also had amazing and well-deserved reviews.  Lots more thanks to Evie for hosting the party with such warmth – my third book event at this most wonderful bookshop.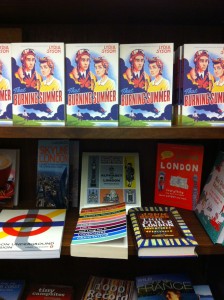 (Such good taste in London books – look – there's the brilliant Bumper Book of London lurking just below That Burning Summer. I'm in a very supportive writing group with Becky Jones, one of its authors, and also Amanda Swift, co-writer of the Guinea Pigs On Line series, who were at review, along with a number of my fellow CWISL authors – in fact, I have Bridget Strevens Marzo to thank for many of the photographs I'm posting here now.)
Come back soon to find out more about the true stories that inspired That Burning Summer.
Category News | Tags: independent bookshops, launch party, That Burning Summer
---