6
September 25, 2012 by Lydia Syson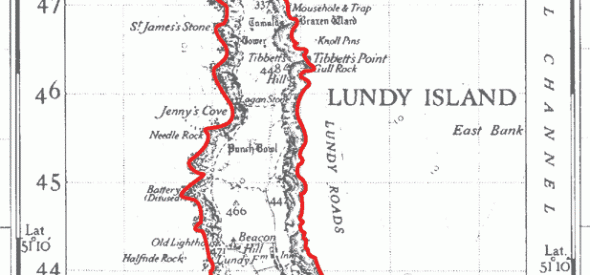 The seat at the kitchen table by the relief map was the prized place at meal times, if I remember rightly. Did we take it in turns, or was there a pecking order to where we sat? There was always something irresistible about stretching up and running your hands over the hills and valleys of the West Country, and landing on a name you knew, and wondering about the places you didn't.  The map was old then, and unlike the world relief map at school (whose mountains you could squish most satisfyingly) its plastic was brittle and ungiving. Countless small fingers had rubbed away at the spot where our cousins' mill house in the middle of Somerset actually stood, so the words 'Buckland St Mary' were hardly visible any more and the space they were meant to label was bare and yellow.
It was much bigger than this one, and crammed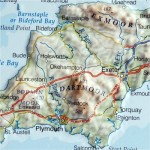 with details you could only make out when you stood on a chair, and peered.  (The kitchen was dark, and lit by paraffin lamps.) I remember – or possibily misremember? – the island of Lundy standing out, proud and enticing. Nobody had rubbed it out. I used to gaze at it, and wonder if I'd ever get there.
From time to time, I still longed for Lundy. Its mystery only increased as I got older and started drifting off to sleep with the radio on and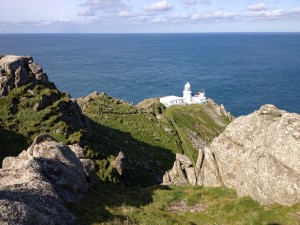 the mesmerising rhythms of the shipping forecast in my head. During a glorious spell as a World Service radio producer in Northern Ireland and then Scotland I managed to make it to quite a few other shipping forecast spots…Irish Sea, Malin Head, Hebrides…most dramatically in January 1993 when I found myself in a small boat out at sea not that far from Fair Isle just at the point that the Braer Storm broke so dramatically.
And last week I finally made it to Lundy itself, to celebrate the 50th birthday of a friend who had spent the eight years since moving to North Devon staring at the island from a distant beach on the mainland.  It took some planning to get away so close to the beginning of term, but I'm glad to report that Lundy fully lived up to expectations.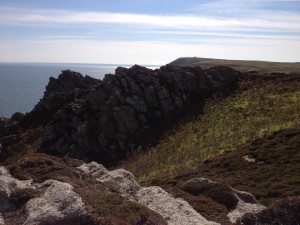 In sunshine at least, it's not wild in the way of Shetland or Hebridean islands. In fact there's something a little toytown about the place (Hmm. Let's put a lighthouse here, and a hayfield here, and how about some wild Soay sheep over there in the heather…?) But that has a charm in itself. I was even standing outside just before Friday turned into Saturday, staring at the incredibly clear heavens and feeling that this was a night to see a shooting star, when the sky duly lit up and what I later discovered to be mere 'space trash' re-entered the atmosphere.
The pull of maps and the incantatory power of place names is something that has found its way into all my writing of the last fourteen years or so. I look at a map of Lundy now and realise how long ago the seed of that obsession was sown. I'm still trying to find a way to get to 
Timbuktu
, a place whose latter-day mystique was created partly by the fact that it didn't live up to nineteenth-century explorers' expectations. In the meantime, I'd love to hear about names and places and maps that have cast a similar spell on anyone else….

Category News | Tags: Braer storm, islands, Lundy, Lydia Syson, Maps, place names, shipping forecast
---