0
September 18, 2012 by Lydia Syson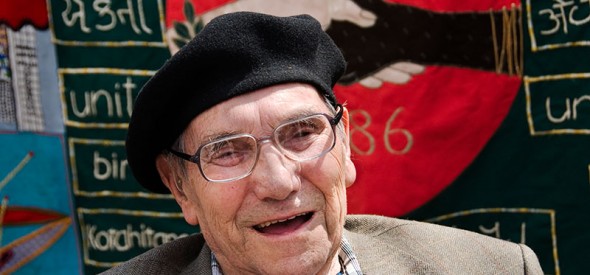 The oldest surviving British volunteer for the International Brigades has died aged 104.  Both ordinary and extraordinary, Lou Kenton was one of many individuals whose matter-of-fact and everyday heroism worked their way into A World Between Us.  In fact, when I began finding out more about British involvement in the Spanish Civil War, his was one of first voices I heard at the Imperial War Museum library. I've just found a post-it note stuck in my diary, with a list of names and numbers: Louis Kenton, 9374, is circled in pencil.  How quickly catalogue references became living, breathing people.
The eldest son of Ukrainian Jewish immigrants, Lou Kenton was born in Stepney.  Faced with injustice, poverty and anti-semitism, he gravitated naturally towards the Young Communist League and its campaigns.  Like my grandfather, he talked of the violence at the British Union of Fascist's rally at the Albert Hall in 1934 and he described his part in the Battle of Cable Street two years later.  There the cry on the streets came straight from Madrid: '¡No pasarán!  They shall not pass!'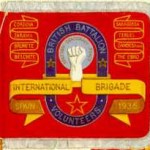 After attending an anti-fascist meeting about six months after the military coup in Spain, Lou and his Austrian wife talked and walked and drank coffee all night until they came to a decision: the only way to stop the spread of fascism in Europe was to go to Spain where there was actually a chance to do something about it.  This was a call that could not be ignored. His wife was a nurse and she set off first.  Lou followed a few weeks later. He spent nearly two years as an ambulance driver in Spain – driving a vehicle sent with funds raised by his fellow printworkers in London – and delivering vital medical supplies around Republican Spain on his motorcycle.
Every time I listened to someone talking of their experiences in Spain, another tiny detail stuck in my head.  It was from Lou that I gleaned an idea of what it was like to speed through the Spanish countryside on a Douglas Twin, from hospital to battlefield, not even knowing at times who held the territory between. Equally striking were his descriptions of the incredible warmth with which international volunteers were greeted in Spain: villagers willingly shared their last scrap of food, though when they realised how little they had, most newcomers didn't made the mistake of accepting it more than once.  Lou's memories of his return to Britain and the utter heartbreak of losing the war made a huge impression on me.
May Lou Kenton and the efforts he made to resist the forces of Fascism and anti-semitism never be forgotten.
Read an
interview
with Lou Kenton (November 2000)
Category News | Tags: ambulance driver, Cable Street, International Brigades, Lou Kenton, Spain
---