0
April 19, 2015 by Lydia Syson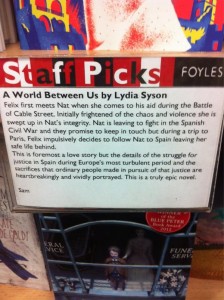 Christmas book pick in The Observer , The Telegraph , The Morning Star & Radio Suffolk, Teen book club choice on The Guardian Children's Book website, recommended as a 'hot read' on teen website Sugarscape. Highly Commended for Branford Boase Award 2013, longlisted for The Guardian Children's Fiction Prize 2013, shortlisted for WeRead Book Award 2013, longlisted for UKLA Book Award 2014 and Waterstone's Children's Book Prize 2013, nominated for the  CILIP Carnegie Medal, 2014.
Please follow links for full reviews….
'A World Between Us is an outstanding debut novel for teenagers…what Syson captures so well is a sense of heartbreaking courage, comradeship and lost innocence…Thoroughly researched and beautifully written, for what I suspect is a crossover rather than a strictly teen audience, Syson's novel convinces with a light touch and a flair for vivid detail…Picasso's Guernica continues to bear witness to that city's tragic fate; this accomplished wartime romance will enthral while reminding you why he painted it.'
'A fantastic historical fiction debut set in the Spanish Civil War, featuring a wonderfully passionate and resourceful heroine.  Recommended.'
The Bookseller, 24-31 August 2012 (Pick of the Month)
'Lydia Syson creates a vivid picture of Spain during the Civil War in this tense and harrowing novel, partly inspired by her own family history. Carefully-researched and rich with fascinating period detail, A World Between Us is a compelling story of politics and passion, bravery and love.'
'a multi-layered story about politics, nationalism and the rose-tinted desire to create a better and more equal world. A very thought-provoking and engrossing novel, with real message for all of us in our current period of conflict.'
'Lydia Syson transfers the love triangle to the Spanish civil war, a period underexplored in young adult fiction given the youth of many of the international volunteers who travelled to Spain to fight against Franco.
The stoicism of the underequipped International Brigades and the joys of an unexpected advance, the arrival of longed-for supplies or a rare uninterrupted night's sleep are conveyed as well as the terror and eventual despair that becomes routine.
Jewish East End printer Nat, nurse Felix and journalist George, who travel to Spain separately in 1936, are driven by their own desires as well as by their shared cause.
The core love story, with all its near misses, coincidences and fleeting encounters, is given higher stakes by its setting. Equally absorbing is the relationship between Felix and the untrained Spanish nurse she takes under her wing, revealing the climate of suspicion and fear of "enemies within" that develops as the war grinds on. Syson brings history alive through careful detail.'
'The strong narrative of this engaging historical novel keeps the reader hooked, but as well as entertainment there's a lot to be learned …there's death and betrayal, fear and sadness within these covers. We are prompted to think about the nature of compromise and how war requires tough decisions to be made. [A World Between Us] is a well-written novel for teenagers but has crossover appeal that many adults would enjoy.'
'As love story, history and gripping drama…it's a book that works on all levels…Highly recommended.'
Read full review at Morning Star
'…paints a vivid picture of the Spanish Civil War…gripping romantic adventure for teenagers… useful for those wanting to broaden their revision of the [years leading up to World War 2]'
'Syson's style is subtle and gorgeous, she melts you into another time and place…I found it compelling reading…I think this is a nigh-perfect YA read.  It's engaging, pulsing, beautifully written and doesn't shy away from complicated facts and tough history.' 
Read full review on Jane's Picture House book blog
'I loved it beyond words.  I'm not the biggest fan of historical fiction at all, but A World Between Us and the way in which Lydia Syson brings us this story about the Spanish Civil War and these amazing characters has inspired me. I read this book and I immediately made myself a pledge to read more history, to find out about time periods and world events that I've never been exposed to before. It's an exciting prospect…I highly recommend A World Between Us!'
Read full review on Fluttering Butterflies book blog
'Syson does a wonderful job of melding historical detail with the lives and loves of her characters.  The brutality of the fighting, dealing with bombings, and tending the war-wounded are told compellingly, as is the psychological strain Felix, Nat, and George experience. If you enjoyed Elizabeth Wein's Code Name Verity or Michelle Cooper's Montmaray books and are looking for another fabulous YA historical novel, I heartily recommend you pick up A World Between Us.'
Read full review on Oxford Erin book blog
'I had to keep reminding myself to breathe as my eyes moved along the pages. It had never crossed my mind before that historical fiction could be this gripping…'
Read full review: The Star (Malaysia)
'Well crafted and well written, this novel delivers an attractive mix of romance and rebellion that will appeal to a modern teen audience but it offers a great deal more than the often rather vapid offerings aimed at this readership. It is set against a war that they might well know little about but which marked an important moment in the struggle for freedom against the forces of fascism. A time when young men and women their age went out to fight and die for a cause that ultimately culminated in the Second World War and which resonates to the present day. No Pasarán!  (They shall not pass.)  A cry they need to know. We forget it at our peril.'
Celia Rees in Armadillo
'A Pat Barker-esque love story set in Civil-War Spain…Syson's writing is saturated with colour and detail…'
Jewish Chronicle, 30 November 2012
'A terrific read'
'The novel assumes little knowledge of the civil war on the part of the reader and Syson skilfully ties many of the core themes and events of the war into the romantic plot line.  There are insights into the roles of nurse, reporter and International Brigader – the three main characters of the novel – alongside atmospheric descriptions of training, battle and medical care.  We learn about Britain's policy of non-intervention, as well as the part played by the press in shaping public opinion.  Syson's book shies away from stereotypical descriptions of Spain and Spaniards; no mentions here of fiery tempers and flamenco.  Instead some of the historically significant features of the civil war are addressed.  Witnessed at first hand is the bombing of Guernica, the first time civilians in Europe were targeted in an aerial attack.  The widespread use of blood transfusions at battlefield hospitals, one of the medical advances made during the war, is also explored as the narrative unfolds…Thankfully, however, the text of the novel is never over-burdened with historical context, and the focus of the narrative stays firmly on Felix and the two men in her life.  With key questions unanswered until the final chapters, the reader is kept engaged with the fate of our strong and passionate heroine.'
International Brigade Memorial Trust Newsletter, Issue 33, Autumn/Winter 2012
'This novel does for the Spanish Civil War what The Red Necklace did for the French Revolution (but in a completely different but equally great way). It is such a good introduction to the period that is often overlooked because of it falling in the mid to late Thirties. There is a lot of good information but I am reading it for the love story, the love triangle, so young adult and pure and fun. The writing is superb and the plot is laid out so well, alternating between the three main stories so perfectly.'
JuniorBookWorm: Big Issue Books
'if you want an intense, beautiful book that will make you physically melt whilst reading it, then look no further…'
Read full review on Anna Scott Jots book blog
'I will admit I haven't read that many historical books. But this really was amazing! It has a great, brave heroine who by far is my favourite character, I really loved her! Nat and George are great characters too, all very unique and stand out from other book characters from other book characters. The story was absolutely brilliant too, with lots of drama because of the love triangle and the World Famous War! It ticks all of the boxes for my idea of a great book; Love, Heartbreak, adventure, drama… The perfect book to curl up with!'
Read full review on Books & Writers Jr,  18 September 2012
'The historical detail is fantastic and worked seamlessly into the story. It never drags and I missed a fair few hours of needed sleep, I found it so gripping.'
Read full review on The Book Monkeys, 30 March 2013
'…quite different from anything I've read in recent years…For all the blood and guts in A World Between Us, reading it made me happy. While it is a story about war and ideologies, first and foremost, it is a love story. And it is the people in this story who really count. While the story says a lot about humanity and war, it also reminds us that people are individuals with a huge capacity for passionate love…Teens may enjoy it as a passionate love story peppered with a war story.  Others may enjoy it as an impassioned and fictionalised political history. And then there are those other readers, some who will be much older, the former comrades and compatriots across the world, who may shed a wrenching tear while rousing a smile for the way that some things were – and the way that things still could be.'
Read full review on We Sat Down blogspot 1st October 2012  ( + Q & A with Lydia)
'I found myself completely swept away with the romance and relationships between the three characters as they struggled through adversity. It was like watching one of those epic war movies from my child hood. Simply beautiful…It is definitely a crossover novel which adults would enjoy just as much as teenagers.'
Read full review on Serendipity Reviews
'Packed full of passion – both political and of all other kinds – this is a harrowing, thrilling and romantic account of the Spanish Civil War and the lives of three young volunteers who sign up to fight in it.'
Julia Eccleshare on Lovereading 4 Kids
'a beautifully written but fast-moving narrative which tells the day-to-day story of the Spanish Civil War in intimate detail…This book opens a door for young people to that obscured history in a way that is emotionally powerful, exciting and accessible.'
Jewish Socialist – The Magazine of the Jewish Socialists' Group
'One of the startling aspects of British people going to take part in the Spanish Civil War was their age, like Nat and Felix in this book, many of them were teenagers when they made that decision. Lydia captures the horror of war, and for me reading Felix's story as a nurse on the frontline gave it a potency that is quite different from reading about a battle.'
Read full review on Lipstick Socialist blog
'…what I liked most about A World Between Us was how incredibly well Lydia Syston explained the history and politics of the Spanish War…the historical detail is beautifully described and came to life really vividly.'
Read full review on Paper Parks book blog
'It is hard to believe this is Lydia Syson's first novel, as 'A World Between Us' is such a finely-crafted and spellbinding book.'
'A fascinating insight into the brutal Spanish Civil War; so often overshadowed by the events of WW2. The violence, the hatred and the destruction are all there, along with the idealism and the politics. This is not just the moving story of Felix and Nat, but also of the Spanish people and those many fighters who gave their lives for their beliefs.'
'This is a beautifully written story about love and loss that will appeal equally to adults as to teenagers.'
Schoolzone (@www.readingzone.com)
'From the first sentences of this remarkably good first novel we are in the midst of action…Lydia Syson writes a rollicking book of the adventures of love awakened and lost in war…The book cleverly explains not only the Spanish war but deeper politics in a way young persons can understand…a very fine, important book for teenagers…superb.'
Read full review at Historical Novel Reviews
'A World Between Us is a book that you will find yourself gripped and enthralled by. The fast pace is sure to keep you interested and it is clear to see that the book has been well researched. A thoroughly enjoyable read.'
Read full review at Cuckoo Review
'In the characters, there is a true sense of camaraderie and courage, without the novel waxing poetic or sentimental about circumstances that clearly are neither romantic nor nostalgic. Rather, Syson develops fully-realised characters that undergo physically and mentally trying circumstances; her characters are sympathetic because they are realistic and flawed. A World Between Us is an impeccably researched work of historical fiction, and also a compelling, human story. If it's any indication of what's to come, I eagerly anticipate Lydia Syson's next novel, That Burning Summer.'
Read full review at Wordchasing
'…in a word, addictive…In the short space of a few hundred pages, Syson hasn't only created a plot that keeps you continuously turning the pages, but fuels her writing with strong and interesting characters.'
Read full review at The Paper Forests
'…thoroughly researched, excellently written, and certainly conjures what I imagine being in Spain was like at this time. It's one I'm recommending to everyone I know at the minute.'
Read full review at Yellow Highway Lines
'This is exactly how to write a period novel for a demanding contemporary audience.'
Author Harry Oulton's blog
'This book was a delightful surprise. An instantly engaging book that took me straight to a part of history that I, shamefully, knew little about. I can whole-heartedly recommend this book as an excellent read (probably more for girls than boys, but not exclusively), and had it not been for other commitments I'd have read it all in one sitting!'
Nicola Reeve at Schoolzone
'Syson sustains simultaneous plots which convey the frightening nature of daily life in a country torn apart by war and the fragile but also inspirational nature of human beings drawn into circumstances they cannot escape or ignore. A very worthwhile read!'
Dominique Doyle at Schoolzone
'probably one of the best books I have ever read'. . .'A World Between Us has everything a great book needs: mystery, romance, history, drama and a possible murder'. . .'One of the best stories ever. Every word drew me in and left me on the edge of my seat.'
'breathtakingly painful, yet perfect at the same time'….'an intoxicating book'…'I fell in love with the book and all the characters.' 
Catherine Larner's review on Radio Suffolk
Sanne Vliegenthart's review on Railroad Reads/BooksAndQuills
The teen website Sugarscape recommends A World Between Us as a 'hot read'.
Category Reviews & more | Tags: A WORLD BETWEEN US, Armadillo, Book bloggers, Books Teen & Magazines, Booktrust, Celia Rees, Historical YA, International Brigade Memorial Trust, Jewish Chronicle, Jewish Socialist, Julia Eccleshare, Lydia Syson, Morning Star, Observer, Red House, Reviews, Sugarscape, teen book reviews, Telegraph, The Guardian, UKYA, We Love This Book
---