0
September 9, 2013 by Lydia Syson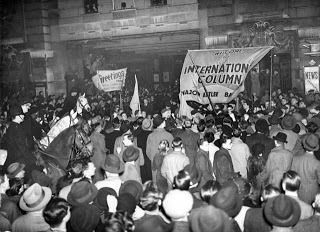 The British Battalion of the International Brigades arrived home 75 years ago, to be greeted by huge crowds at Victoria Station.  Celebrate these heroes and heroines with the International Brigade Memorial Trust and Philosophy Football at No Pasaran!  A Night to Remember! at Rich Mix, 35-47 Bethnal Green Road, London E1 6LA. Theatre, discussion, comedy, music and recitation – not to mention an A World Between Us event at 4.30 pm. Book here for the evening and/or the afternoon activities or call 01273 47272.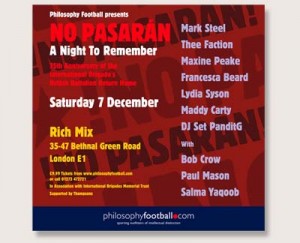 Supported by Thompsons Solicitors.
I'll be doing a special FREE event for young people from 4.30-5.30 pm at Rich Mix – an illustrated talk and discussion with readings and music on the background to A World Between Us.  If you've left it too late to get a ticket, just show up on the day.
Also…
Seminar: Indignados, Spain and Lessons of Global Protest With Olga Abasolo, activist in Los Indignados and Paulo Gerbaudo, author Tweets and the Streets:Social Media and Contemporary Activism. From 3.30-5.30pm, organised with the journal Soundings. FREE.
PLUS! Guided walk round the Anti Fascist Heritage of London's East End. Led by David Rosenberg of East End Walks and author of Battle For The East End: Jewish Responses to Fascism in the 1930s. Walk starts 1.45pm (not at Rich Mix) and ends at Rich Mix for 5pm.
Note: If you intend to join one of the afternoon activities, you can have supper at Rich Mix in their excellent café.  Doors for the evening show opening at 6pm.
Category Bookings | Tags:
---