0
September 14, 2012 by Lydia Syson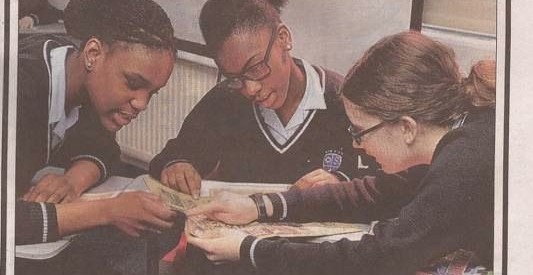 PLEASE EMAIL ME TO DISCUSS AN EVENT OR MAKE A BOOKING: lydiasyson@gmail.com
I love talking to audiences of all ages and sizes, and take a very flexible approach to school visits and other events for adults, teenagers and children.  You can hear and watch me talking about my books here and on Youtube.
School events on offer for 2019 and beyond include:
1. What's the point of historical fiction?
Creative approaches to history are fast gaining ground in universities, and have never been so popular with the general public, but what exactly can novelists offer historians? Illustrated talk/discussion based mainly on my adult fiction debut, Mr Peacock's Possessions, with emphasis on relevance, women's history and hidden histories – KS4, KS5 and adult.
'A mesmerising portrait of a family unravelling' (The Times) set on a remote volcanic island in nineteenth-century Oceania, Mr Peacock's Possessions explores a number of themes with huge contemporary resonance: migration, slavery, toxic masculinity, and the rights of women and indigenous peoples. Possible discussion topics range from cultural appropriation and colonisation to environmental protection and marine ecology. Events and ideas are brought to life with wonderful visual research material: archive photographs connected with the remarkable family story which inspired the book, and images from the dramatic scientific research expedition to the Kermadecs which I undertook with the New Zealand Navy at the final stages of writing.
2. KS5 academic writing skills:
Memorable and absorbing interactive workshops suitable for any student studying an essay-based subject or embarking on an EPQ or dissertation. Topics include 'the big idea', writing paragraphs with impact, and effective editing.
As a former Royal Literary Fund Writing Fellow at The Courtauld Institute of Art, I have extensive experience of working with students making the transition from 'A' levels to undergraduate work and beyond.
3. KS4 academic writing skills:
Designed to support fluency in writing and enthusiasm for reading, these workshops use insights from creative writing to enhance confidence in academic writing.
4. A career in writing:
Short illustrated talk and Q & A for KS5, 4 or 3 on the range of possibilities offered by writing as a profession, using my own experience of radio, journalism, copywriting, academia and adult non-fiction as well as fiction for children, teenagers and adults.
You can also book illustrated, interactive talks for KS3 and KS4 on any or all of my YA books. These are ideal for supporting literacy across the curriculum, and can include a related creative writing workshop that makes use of primary sources: eg poetry inspired by the bombing of Guernica. Events can be delivered with a focus on English, History, Spanish or French.
As well as inspiring students to write historical fiction themselves, and encouraging them to see the history all around them, That Burning Summer events offer excellent support for KS3 work on the WW2 Home Front and GCSE History courses covering Britain at War (1939-45)  Talks can also be adapted to integrate history and literacy in Year 6 work on the WW2 Home Front. A World Between Us supports Spanish Civil War units in Highers and AS level history, but also gives invaluable background to the build up to WW2. Liberty's Fire works particularly well for Year 12 historians who have studied the French Revolution, providing an overview of upheavals in France in the 19th Century, culminating in the Franco-Prussian War, the Siege of Paris, and Paris Commune. All my areas of expertise are great topics for sixth-form enrichment, extra-curricular talks and EPQs.  I use vivid primary sources of all kinds, always include readings from the novels and plenty of discussion, and my books are an excellent demonstration of how the resources lurking in archives, libraries and museums can be brought to life.
I also offer creative writing workshops for young people and adults and take part in panel discussions.
Download and print full YA event details here:  Lydia Syson School Event Info 2019

I've been trained in school events by the National Literacy Trust and I am on the team of authors at the Wallace Collection delivering free creative writing workshops in the museum to visiting schools, both primary and secondary. (Book here and subscribe to the teacher mailing list here.)  My school visit fees are well within Society of Author averages, if booked directly with me: £175 for a single session of up to one hour plus signings, £275 for a half day (two sessions or a 3 hours workshop including breaks, Q & A and book signings) and £400 for a full day (up to three separate sessions or 2 half-day workshops including signings etc). I am not VAT-registered.
If you're wondering how an author visit could benefit your school, have a look at these slideshows, one from CWISL and one from the Society of Authors.  You'll find the Society of Authors guide to organising a school visit here. I also enjoy participating in panel events and quizzes and welcome invitations from teenage and adult book groups.
See below for USEFUL INFORMATION and TESTIMONIALS.
More about the books:
Mr Peacock's Possessions is published as an adult novel, but confident readers of 15+ will also find it gripping. It explores both hidden histories of the Pacific and the tensions of sibling rivalry and island life.
Liberty's Fire is an eye-opening novel about France's last (and often forgotten) nineteenth-century revolution, the Paris Commune. It will appeal to anyone who wants to know what happened after the events of Les Mis.  From Second Empire excess to Third Republic repression: the Franco-Prussian War and the Siege of Paris, barricades, photography, women's rights, shopping, elephants and rats all included!
That Burning Summer, set in Kent in July 1940, tells the story of the Battle of Britain from beneath, addressing invasion (Poland and France as well as Britain), the Home Front, propaganda, pacifism and flying fatigue/PTSD.
A World Between Us is the perfect book to introduce teenagers to the Spanish Civil War, with a focus on British involvement, the build-up to World War Two and the rise of Fascism in Europe.  The two books work very well together in a single event.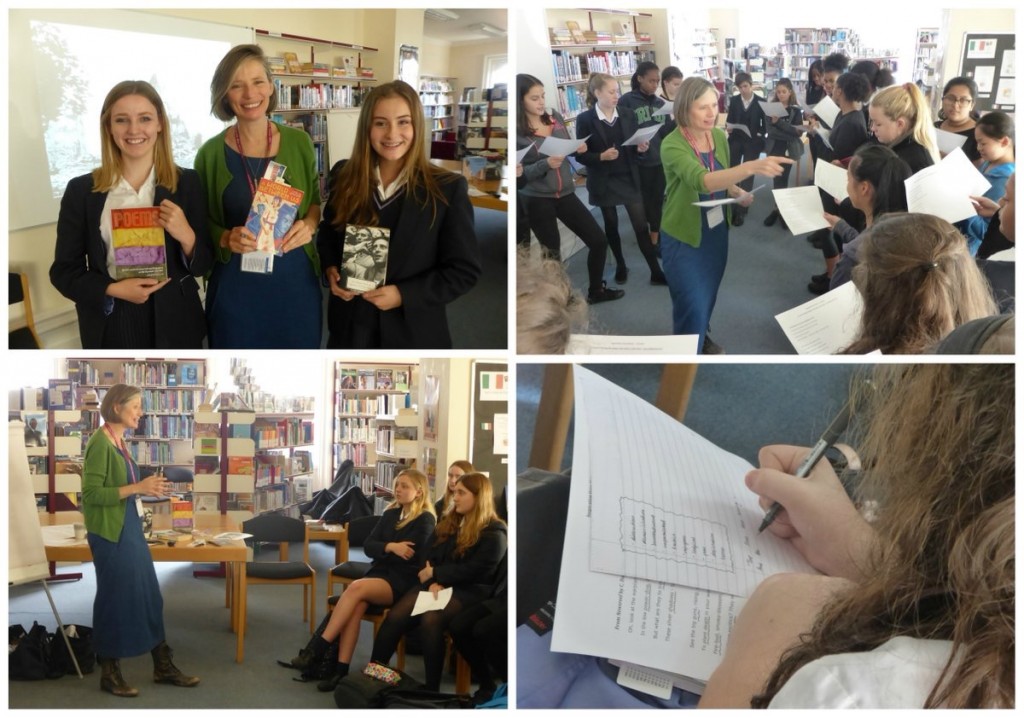 Inspiration from History: A creative writing workshop with Sydenham High School.          
Testimonials: 
'Thank you so much – your talks were exactly what we wanted and the whole day was a huge success – for the individual History and English departments; as a cross-curricular activity; promoting the love of reading; and making research sound fun!'  Alison Lingham, Haberdashers Monmouth School for Girls; Carys in Year 8 reported on the event for the school magazine, concluding: 'After the talk, we had the opportunity to purchase signed copies of her books.  Most people grabbed it and went away with at least one signed book.  Overall, everybody thoroughly enjoyed this wonderful experience, and we all recommend her coming again in the future to talk to others.' 
'The impact of the visit?  I have known these students for many years and it was very moving to read their poems – these are not necessarily the students that I would have expected to produce a poem to share. I also loved that they wrote something immediate – without worrying about spelling, handwriting, rewriting, or assessment.  So much in school nowadays is defined by results – and these students will be spending the next two years driven by results.  So for these students it was wonderful just to be able to switch off from lessons and enjoy the morning…I think it was so important for them that you linked the rise of Fascism in the 1930s with the re-emergence today – made it all the more relevant.' Elizabeth Cooper, Librarian, Sydenham High School for Girls
'Each time I have met Ms Syson I have found her incredibly intelligent and engaging, particularly on the subject of history for which she has great passion and enthusiasm, enthusiasm which is relatable and piques your own for the subject.  This lead me to request the author for a schools event I organised during World Book Week, for a group of 70 teenage students, as I knew she would be a great asset to the day's proceedings.  Throughout the event she was incredibly calm, generous with her time, interacted extremely well with the students, holding their attention in discussion and was very popular with her group of pupils.  I would thoroughly recommend Lydia Syson to anyone who is looking for an author that can encourage children to enjoy history.' Neil Jackson, Children's Marketing and Events Co-ordinator, Foyles, Charing Cross Road.
'Lydia is a great speaker who visited my library giving a gripping talk to our students.'  Michael Margerison, School Librarian, Elmgreen
Read about my World Book Week 2017 competition here.
These articles in the South London Press (21 March 2014) and News Shopper (24 October 2016) covering events at Sydenham School and Sydenham High School will also give you a feel for my author visits: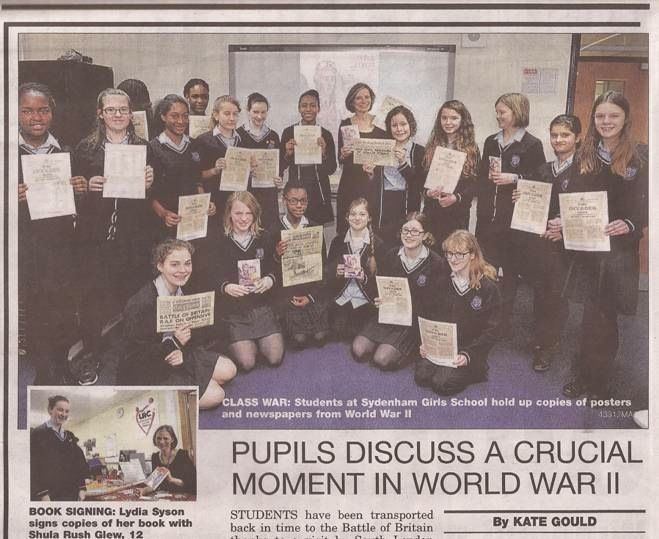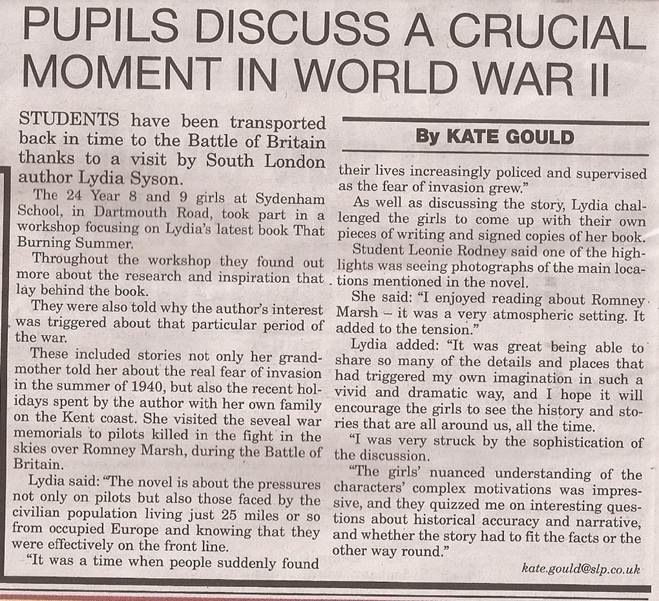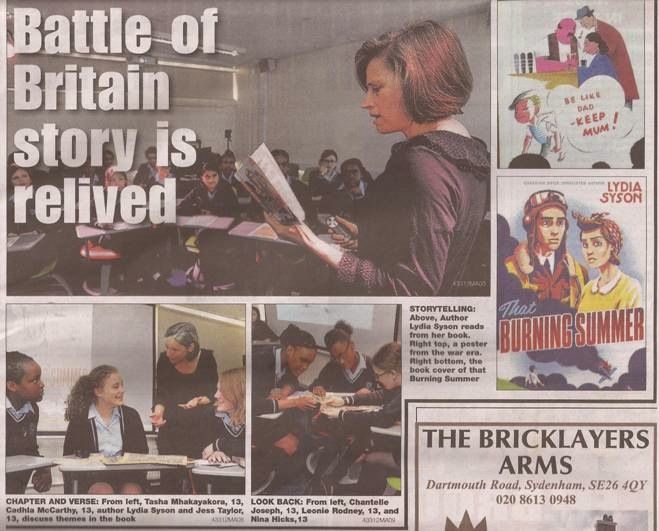 USEFUL INFORMATION
Age Ranges
11+
Number of Sessions
Depends on distance and requirements
Size of Audience
Students will get most from a session if audience size is kept to 25-60, so that meaningful discussion can take place, but I'm very happy to address much larger groups in the right setting and also to follow up a talk with a workshop for a smaller group.
Areas
I live in London, but am happy to travel anywhere in the UK by public transport, provided all appropriate expenses, including accommodation if required, are met by the client.
Preparation for schools:
For most visits, I need a projector, a sound source, a screen and a room that is dark enough to show images well, but lit so that I can see the audience.  I usually send a powerpoint file in advance, bringing backup on a USB stick. I'd like a named contact at each school, and a member of staff present at events.
Book sales:
I will sign and dedicate books and bookmarks after any event, and can offer recommendations for local booksellers/school event packages.  Parents/carers need be informed about booksales in advance, and ideally books will be pre-ordered. 
 Please contact me if you'd like a template to send home. Sessions are much more enjoyable and productive if students have read my books ahead of the visit – even an extract – but this is not essential.  
My preparation:

  I always talk to schools/event organisers beforehand to make sure each event is a perfect fit for the school's needs.
Materials: Please contact my publisher, Hot Key Books, for publicity material.  Song sheets and discussion notes are also available.
Book groups may also be interested in taking an 'A World Between Us' tour with East End Walks.  Please email david@eastendwalks.com for details.
If I'm not the right author for you, try one of my colleagues in CWISL (Children's Writers and Illustrators in South London) or SAS (Scattered Authors' Society) or feel free to email me for advice!  Here's a useful guide for teachers organising a school author visit from the Society of Authors.
Google+
Category Events | Tags: author visits, authors for book week, book an author, Civil War and Francoism, contact an author, EdExcel HIstory AS Unit 1, events leading to WW2, Guernica, historical fiction, history for children, History GCSE Edexcel, London children's authors, Modern World Source Enquiry, Option CA10 resources, Poetry workshop, Republicanism, school author visits, school visits, The impact of War on a locality in Britain, The impact of war on Britain, UKYA, War and the transformation of British society, writing workshops
---