1
May 12, 2013 by Lydia Syson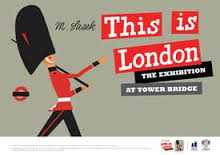 The first time I ever saw Tower Bridge open was thanks to my Great-Aunt Bertha.  We had a huge number of great-aunts (my grandfather was almost at the end of thirteen children): Bertha was far-and-away our favourite.  She told the most wonderful and subversive stories, often about her own childhood, including this particularly memorable tale of disobedience rewarded:
She was probably about thirteen or fourteen when she came up with a plan which meant she could take a day off school whenever she liked.  She simply told her teacher that it was a Jewish ho
liday.  "But none of the other girls will be away…" the bewildered mistress would say, to which Bertha replied, "Ah, that's because they're Ashkenazi. We're Sephardi, you see."  And off she would go, exploring.  Months passed, during which she discovered all sorts of nooks and crannies, and finally it came to at the end of year quiz. The subject was London.  She got every question right, and walked off with the prize.
My siblings and I loved it when Bertha came to babysit because she was the only person we knew who told us stories she had actually made up herself – bliss!  Then one unforgettable day she told us the most amazing story of all, which lasted all day and was set in seventeenth-century London.  As she told it, she took us to all the different places in the city where it happened, starting at St Bartholomew-the-Great in Smithfields, ending at the Houses of Parliament – and somehow contriving to pass by Tower Bridge on the way, just as it was opening.
I don't think you could actually go up onto the bridge in those days,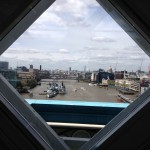 but now you can, and this afternoon I took my two youngest children up there to see the suitably nostalgic new exhibition This is London.  Miroslav Sasek's vibrant children's guide to London and its ways was first published in 1958 and this display on the Tower Bridge walkway 43 metres above the Thames shows off his artwork in all its glory, highlighting continuity and change.
Down in the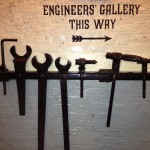 engineroom, once we'd admired the polish of the steam engines that used to drive the mechanism and got our heads round the meaning of the word 'bascule', we voted on our favourite of five works of London-inspired art produced by contemporary artists – this new exhibition, 'Art at the Bridge', has been organised in collaboration with Southwark Arts Forum.
At the opposite end of Southwark, Artists' Open House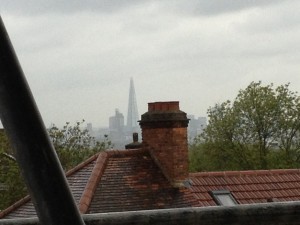 was in full swing – over 200 artists in and around Dulwich are opening their doorsthis weekend and next.
Here's another view of the Shard from the window of Loraine Rutt in Honor Oak.  Loraine's interpretations of London bring together cartography and ceramics, and my photographs really don't do her work justice, but they'll give you an idea.
Created in the red clay out of which and on which much of the city is built, this piece shows the geography of a London stripped bare of its buildings: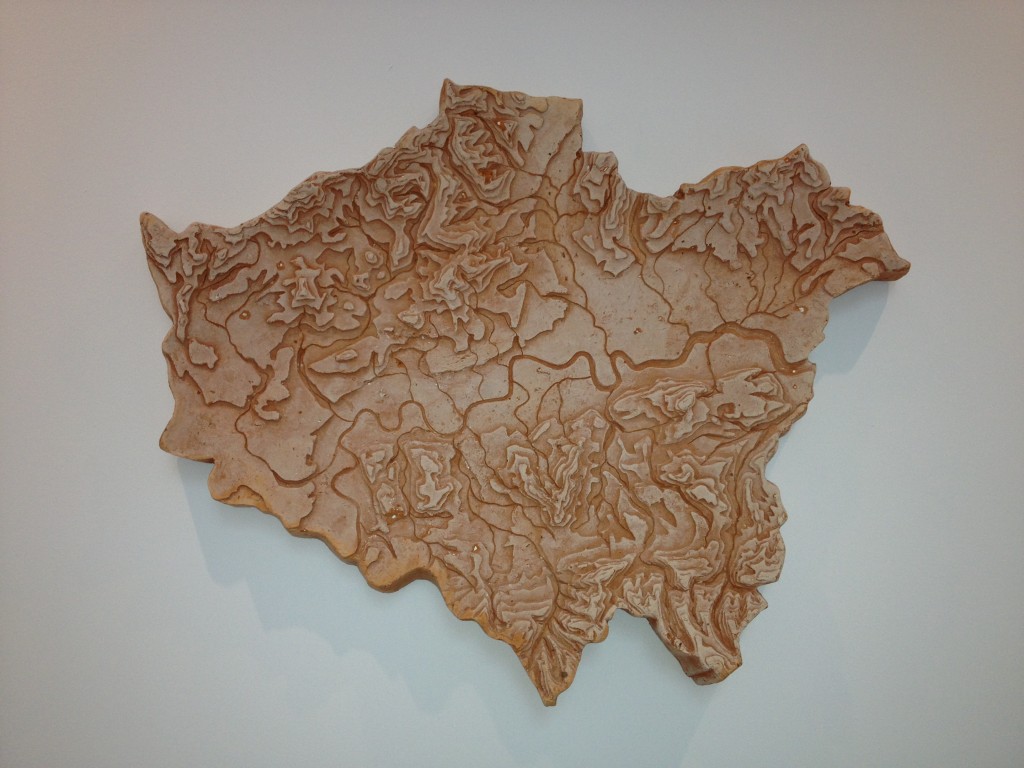 Other use the translucence of porcelain, lit from behind, to evoke the fragility of the land.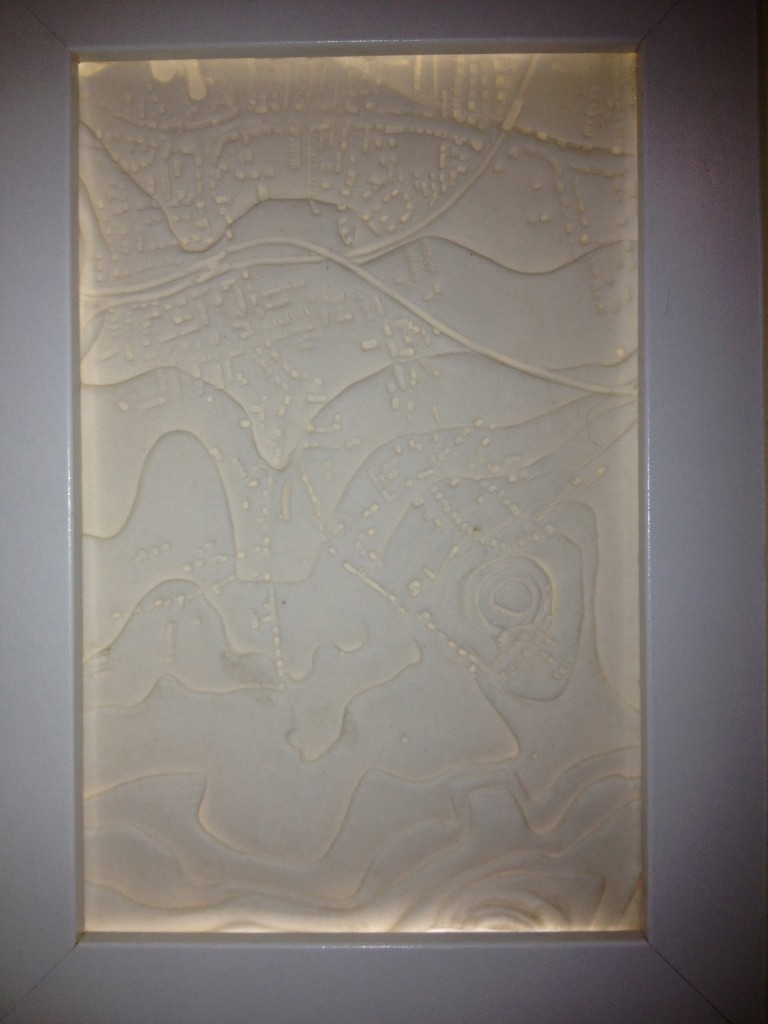 Lost rivers of London are rediscovered….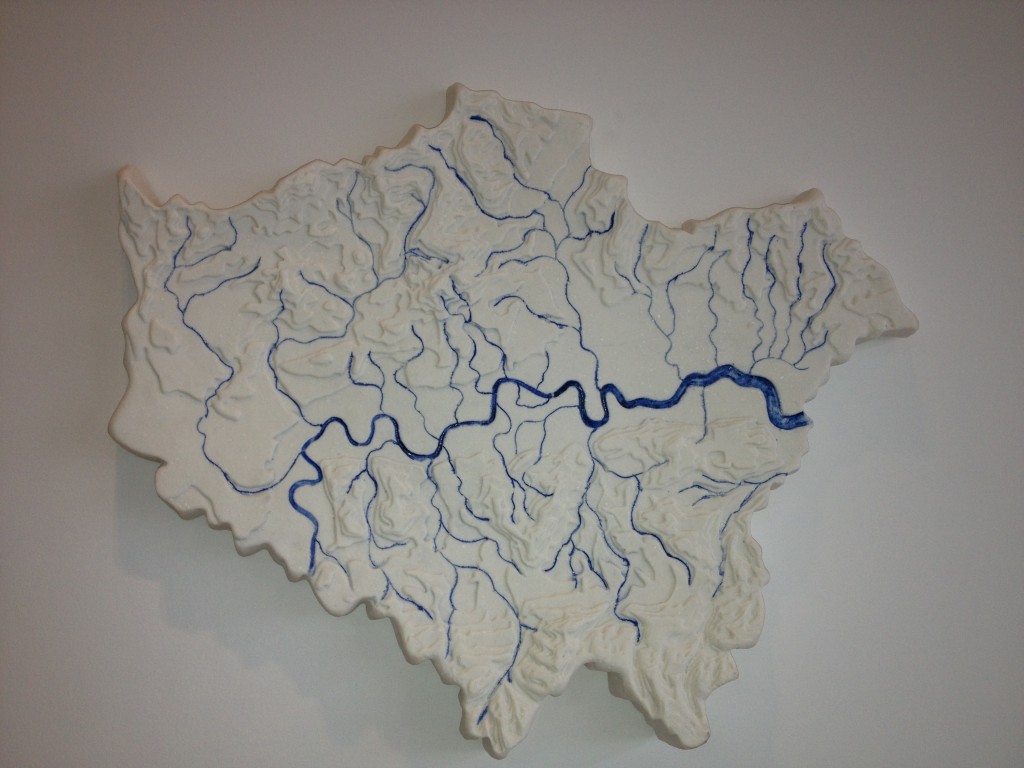 Incidentally, if you're interested in lost rivers, you'll probably enjoy a new book called Silt Road, by Charles Rangeley-Wilson.)
I particularly love Loraine's (very affordable) 'Peckham postcards':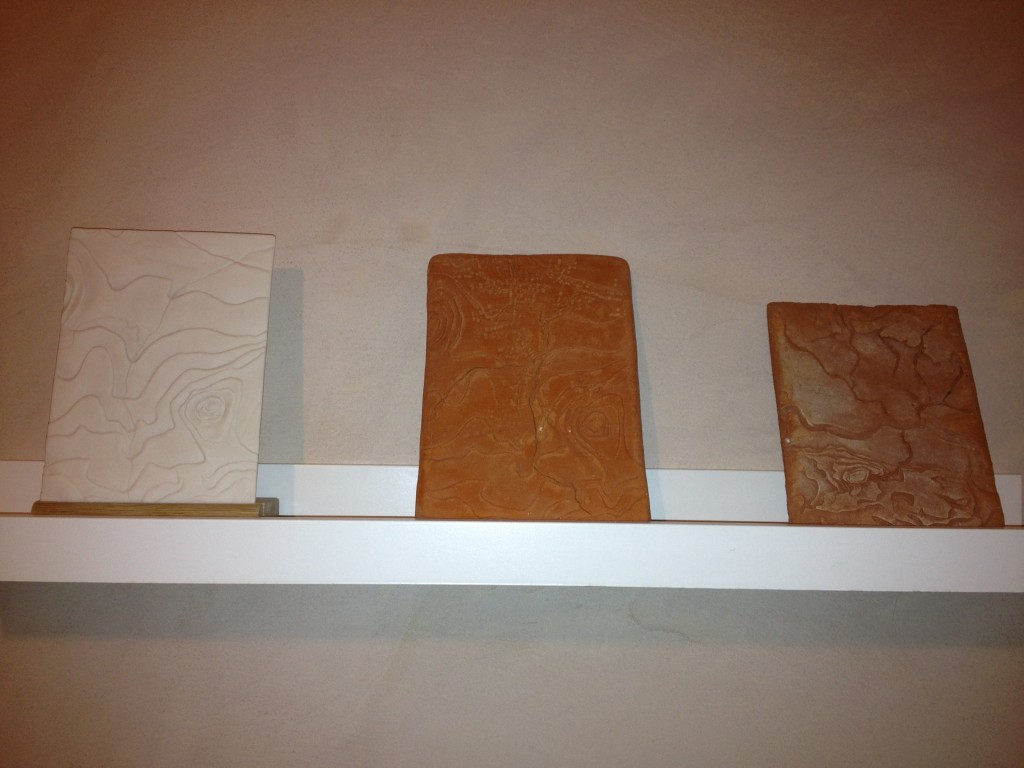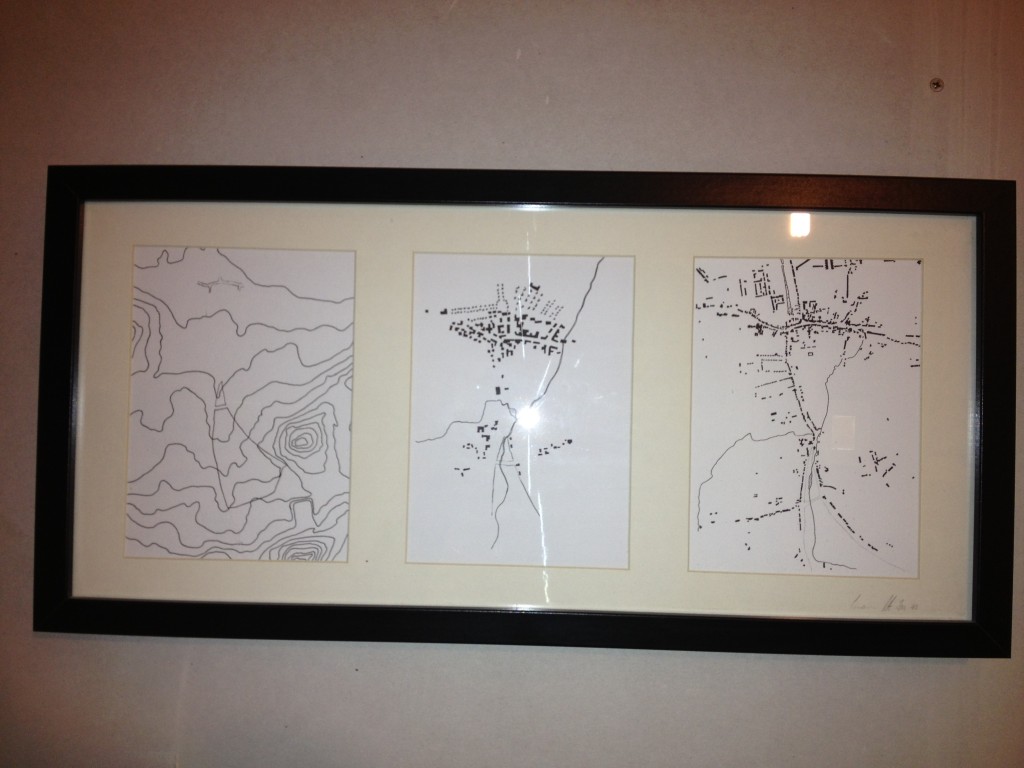 (Loraine is also a brilliant teacher of ceramics, as my twins and their groaning shelves of artwork will testify…after-school lessons take place in her studio just below Peckham Rye Station.  See her website for more information.)
Category News | Tags: Artists' Open House, Dulwich Festival, exploring London, Loraine Rutt, lost rivers, Sasek, Silt Road, This is London, Tower Bridge
---