0
November 12, 2013 by Lydia Syson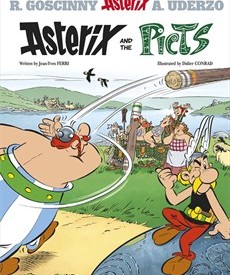 The first hint was an intriguing question in the Guardian Quiz (no. 3), then a query on Twitter. Just in time for half-term, we finally got our hands on Asterix and the Picts, the first new book in the series to be created by an entirely new writing/drawing team.
We are a family of fervent Asterix-lovers. When my partner and I met, our amalgamated childhood collections ensured that our four children could be brought up in decent Goscinny-and-Uderzo-style. And sure enough, one by one, they all got the bug. Their minds were expanded, their vocabularies enlarged ("'G' is for Gluteus Maximus" – according to one son's Year 3 Literacy Book) and their sense of humour sharpened.  We even went to Parc Asterix. Twice.
So how has the new team of Jean-Yves Ferri and Didier Conrad lived up to the original creators?
Over to my children, three of whom agreed to take part in this family review…
Son 1 (aged 14 – favourite: Asterix and the Mansion of the Gods)
'The art was excellent.  However the writing was not as funny as the previous books and the puns were far worse. The storyline, although predictable, was fun, and the introduction of Scotland into the series was interesting. Overall, it was a good book on its own, but had nothing on the previous books.'
Son 2 (aged 10 – favourite: Obelix and Co)
'Asterix and the Picts had the same wonderfully brilliant illustrations that all of the other books had. I really liked the storyline, as I have always wanted more Asterix books around that area, but unfortunately, the jokes weren't quite up to Asterix standard.  The book felt like a lot of it was in Gaul, and they didn't quite stay in Scotland long enough.  I was rather disappointed, but I do think that Orion should publish more of them: I would still rather have a quite good book than none at all, and it was still an amazing book.'
Son 3 (aged 10 – favourite: Asterix and the Golden Sickle)
'I was really surprised when I realised that the drawings weren't drawn by Uderzo. After a long time of reading the same Asterix books again and again, I had got bored, so I was very excited when this book came out. I felt that it had the same Asterix feel to it, and I enjoyed the book thoroughly. I particularly liked Nessie, and all of the different clans.'
As a bit of a purist, I must admit I've always favoured the first 24 books in the series, which were written before the death of Goscinny, after which Uderzo valiantly continued solo for another ten. But I'm pleased to say that Anthea Bell, one of the original translators, whose utter genius translated Idéfix into Dogmatix, has remained on board throughout, and that continues to make a big difference.
The very high standard of wit in the earliest Asterix books is extremely hard to live up to, but Asterix and the Picts clearly hits the mark in other respects. There were some memorable gems, and a good balance between tradition and innovation. I loved Obelix's predictable enthusiasm for tossing the caber and the new names – a couple of Romans called 'Fallacius' and 'Pretentius' and some great 'Mac' variations. Not to mention the Pictograms. If you're after perfection, you may be disappointed, but this family is more than happy to settle for the pleasure of catching up with old friends, and looking forward to further adventures to come.
Category News | Tags: Asterix and the Picts, family review, New Asterix
---