0
September 30, 2012 by Lydia Syson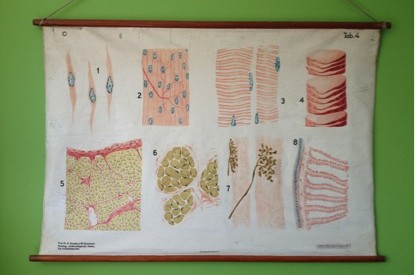 Like most writers, I find pictures often help the words along. Some images get under your skin more than others. I can't pretend that A World Between Us started with this beautiful print. But its appearance in my life felt serendipitous, and I've loved living with it for the last few years.
If you're wondering, it's a medical education poster (chart 4 of a histology/embryology series to be precise) and it illustrates cross-sections of blood cells and bone marrow (I think!)  I gave up biology far too young, at thirteen, and when I look at these images I'm drawn to their colour combinations and abstract patterns more than anything else. I find it hard to make sense of what they represent. Just a glimpse at the wall on my way from my laptop to the kettle has often kept me on track with my writing.
I came across the print in a sale at a friend of a friend's house, soon after starting work on the Spanish Civil War when I was just finding my way into an idea for a plot. After reading about the medical innovations developed by Republican doctors, particularly their life-saving innovations in front-line blood transfusion techniques, I quickly became fixated. In villages and towns throughout government-controlled Spain, ordinary citizens donated blood for the soldiers who were fighting to defend their young democracy. When supplies ran out at the frontline hospitals, nurses, doctors and ambulance drivers gave their blood too. I found this fact as powerful as a metaphor as it was in reality.
I still wish I knew more about this poster. I haven't been able to discover much at all – just that it was made in Germany, at some point between the wars. I picture it hanging up in an echoey hospital lab somewhere in Europe, alongside model skeletons and bottled body parts and diagrams of the eye, while serious-faced medics sit in rows at high wooden benches, heads bowed over their lecture notes. Do get in touch if you can throw any light at  all on the doctors named on it:

the Berlin printer who produced it:

or even the Antwerp bookshop (?) which seems to have distributed it:

There's an indirect reference to the poster in Chapter 4 of A World Between Us. Maybe you've spotted it. Otherwise it's more of a back-of-the-mind kind of thing. Nat, the young East Ender who sweeps Felix off her feet in the very first chapter, leaves his job as a printer to go to fight in Spain. He'd have been able to tell me exactly how a print like this was made. Felix could have described other posters in the lecture rooms at the London Hospital in Whitechapel.
Now that their story is so close to publication, something else strikes me about this poster. In the process of writing this book, I've been unearthing more and more of my family history, often inadvertently: my Communist grandparents were very involved in the fight against Fascism in 1930s London, and several of my great-aunts were too. At first I kept running into them accidentally in the course of my research.  Now I'm hooked and I'm trying to discover as much as I can about their activities as anti-Fascists.  I'm also learning more about other campaigners and radicals of in the family tree – Irish nationalists, Marxists, Zionists and anarchists. I can't help wondering if there isn't something in my blood that drew me to my subject.
Category News | Tags: blood, Bogdan Gisevius, Bossaerts, Dr K. Smalian, family history, medical poster, Republican, research, transfusion, W. Gummerl
---