0
July 19, 2013 by Lydia Syson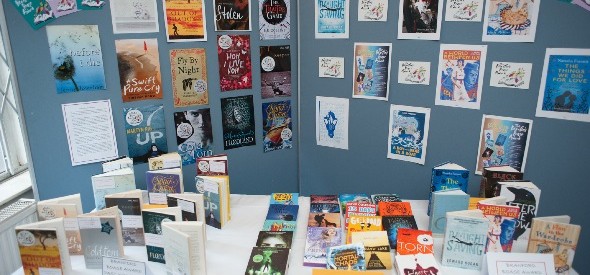 A week on and I'm still getting over the glorious celebration of books, reading, writing and above all editing for children that is the Branford Boase Award and Henrietta Branford Writing Competition. The BBA winning double-act of Dave Shelton and David Fickling said it all: their chalk-and-cheese speeches gave a brilliant flavour of the kind of chemistry between author and editor that gets results as superbly maverick as A Boy and a Bear in a Boat, as well as the absolutely crucial role played by the BBA in supporting and giving confidence to debut children's novelists.
Dave Shelton (left)
& David Fickling (below)
I've felt lucky beyond belief ever since meeting my own editor, Sarah Odedina, for the first time.  The new Hot Key Books office in Clerkenwell was still almost empty in the autumn of 2011 – all echoing walls, bare shelves and vacant desks.  Discovering that my book was to be on the launch list was as daunting as it was thrilling. I realised then that Sarah knew far better than I did exactly what A World Between Us was really all about. I've learned so much from her since then – about voice, and instinct, and being true to oneself, and why passion is so important in publishing.  What a huge honour to find myself stepping up with her last week to receive our lovely 'Highly Commended' prizes from one of the prize's main sponsors, Jacqueline Wilson (yes, really!) and Annabel Pitcher, last year's BBA winner for the fantastic My Sister Lives on the Mantlepiece.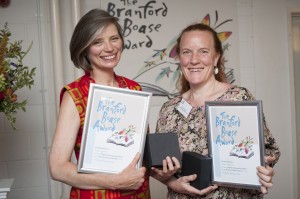 Inside our boxes we each had this beautiful wooden book and silver butterfly pin.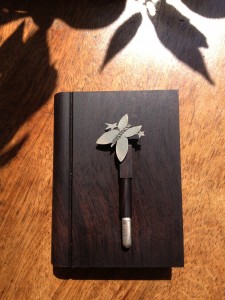 After the awards there was a great frenzy of signing…here's Grace Davis, one of the Writing Competition Winners, getting her pile of Jacqueline Wilson books sorted out:
Edward Hogan signing Daylight Saving for young writer Ella McElligott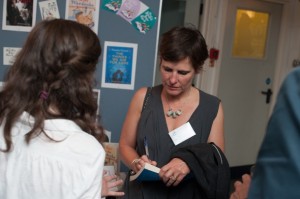 Natasha Farrant signing The Things We Did For Love for Charlotte Cohen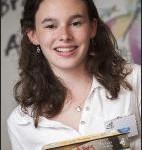 Alexia Sloan
& James Martin (with proud parents)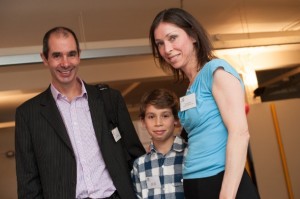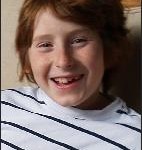 Maximilian Allanby-Bassett was on his school journey and couldn't come but his sister Isabelle did an excellent job of collecting both his prize and plenty of signatures.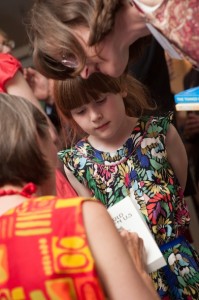 You can read all these young writers' winning stories here – and I wouldn't be surprised if you don't see their names on spines in bookshops in years to come.
As fate would have it, we had just lent our own family copy of A Boy and a Bear in a Boat to a friend (and it was the lovely original hardback with the coffee-'stained' cover too).  We remembered too late to retrieve and add it to the bag of other shortlisted books my own youngest children had brought along to get signed. Wendy Meddour drew them a chicken picture, to their great delight.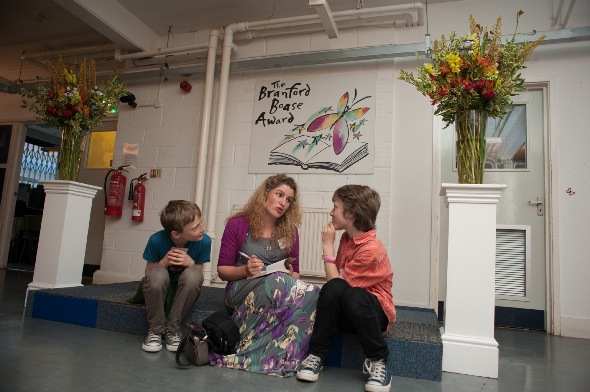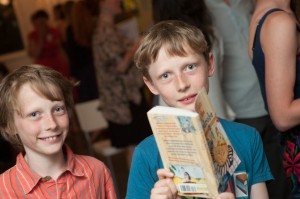 It was altogether an extraordinary and inspiring evening, and we had to pinch ourselves all the way home, especially after this encounter with Philip Pullman….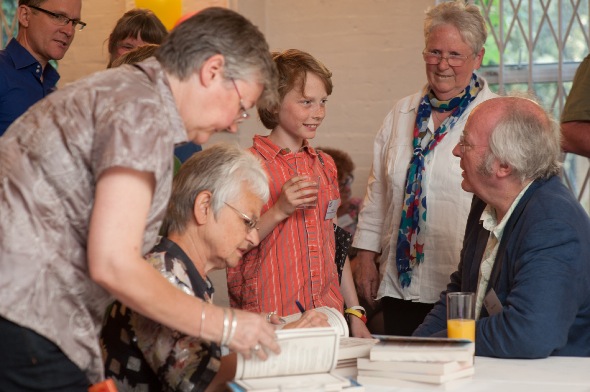 Photographs by Paul Carter – see lots more at the BBA & HBWC website and find out about all the winning young writers and shortlisted authors.
Category News | Tags: Annabel Pitcher, Branford Boase, Dave Shelton, David Fickling, Henrietta Branford
---